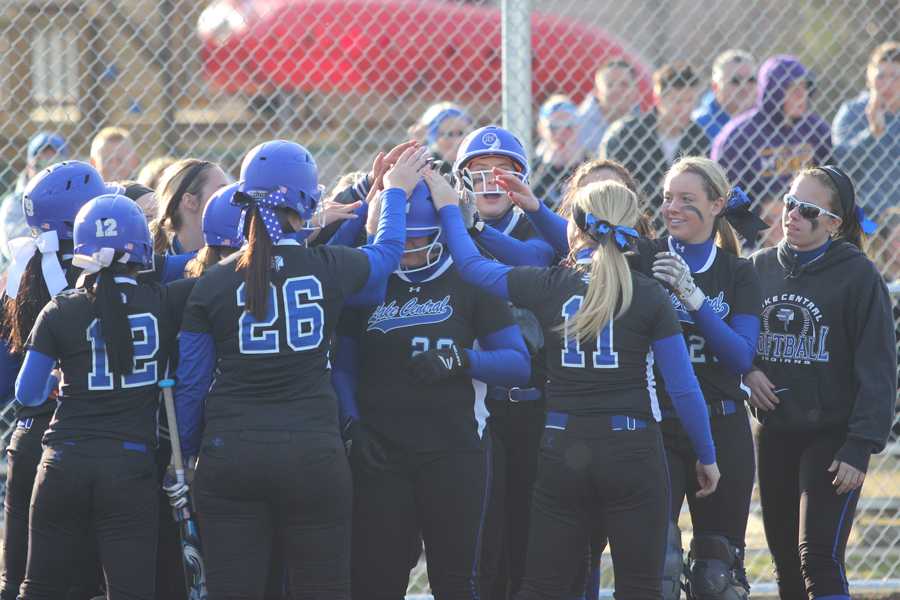 The Lady Indians squared off against the Munster Mustangs on March 31, and the 10-inning contest concluded in a 5-5 tie.
"We got some bonus softball. I hate to say that it gives you a playoff atmosphere this early, but when you get to extra innings like that, it kind of does give you that situation," Coach Jeffrey Sherman, Math, said.
The Tribe sought to avenge their 1-0 Sectional loss to Munster . This time, their early offense bombarded their archrival. In the first inning, starting pitcher Julia Schassburger (11) launched a three-run home run to help her cause.
"We're going to be in some situations later on in the season that are very similar to what we were in today. We are going to be physically, mentally, [and] emotionally ready for those situations," Sherman said.
In the bottom of the seventh inning, with two outs and Munster up 5-4, Crystal Guzman (10) dug her feet in the batter's box. The count became 0-2, and she laced a foul ball down the third-base line. On the next pitch, Guzman delivered the tying run on a deep double.
"I thought to myself, 'Just relax. Just breathe.' I had a little bit of jitters, but I knew I had to relax and just do what I could. Usually, I just think of a tune in my head. I like 'Eye of the Tiger,'" Guzman said.
The game reached a stalemate, and the affair was called due to darkness and a lack of stadium lights. Due to a recent IHSAA rule, the result will not be listed in the standings, but all statistics will count.
The Lady Indians will square off against the Highland Lady Trojans at home on Friday, April 3 at 4:30 p.m.