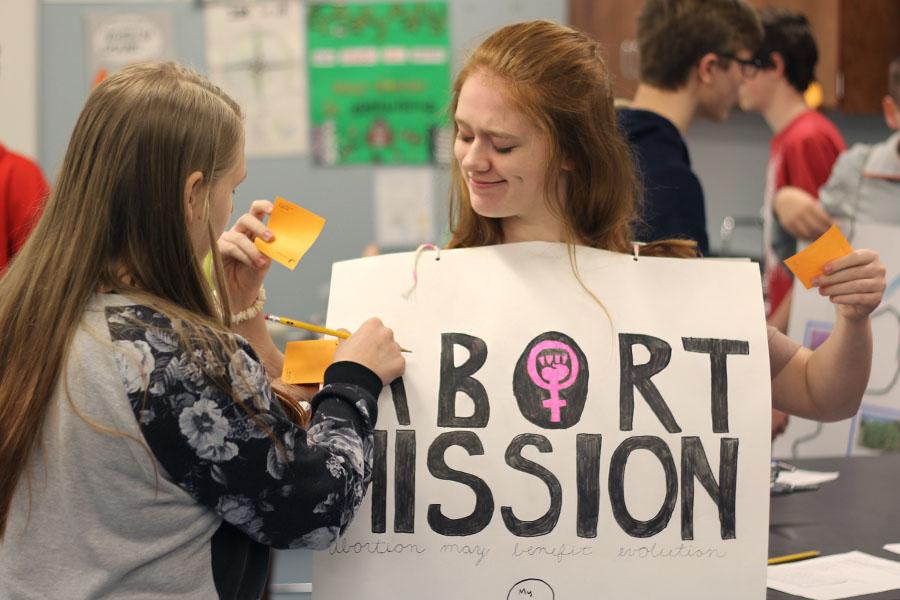 Students dug into the topic of evolution in Mrs. Julie Shupryt's, Science, class. The class made sandwich board presentations on Feb. 28 to learn about how evolution has affected the world today.
"We're looking at how [the topics] are affecting evolution, or how they have affected it in the past. By trying to use more topics that are pertinent today, the idea is to try and show them that evolution is still happening, as well as get them a little more interested in evolution," Mrs. Shupryt said.
Some topics presented during the class included abortion, vaccinations, food, weapons and extinction. Not only did students learn about evolution, but students were able to learn about presenting and working with others.
"Working together with my partner I've learned how to use teamwork to get things done. We didn't have a gigantic time frame to do [the project]. We had to research a whole bunch, make it look presentable, organize everything well and know our information. Dealing with presenting is nerve racking," Maisie Westerfield (9) said.