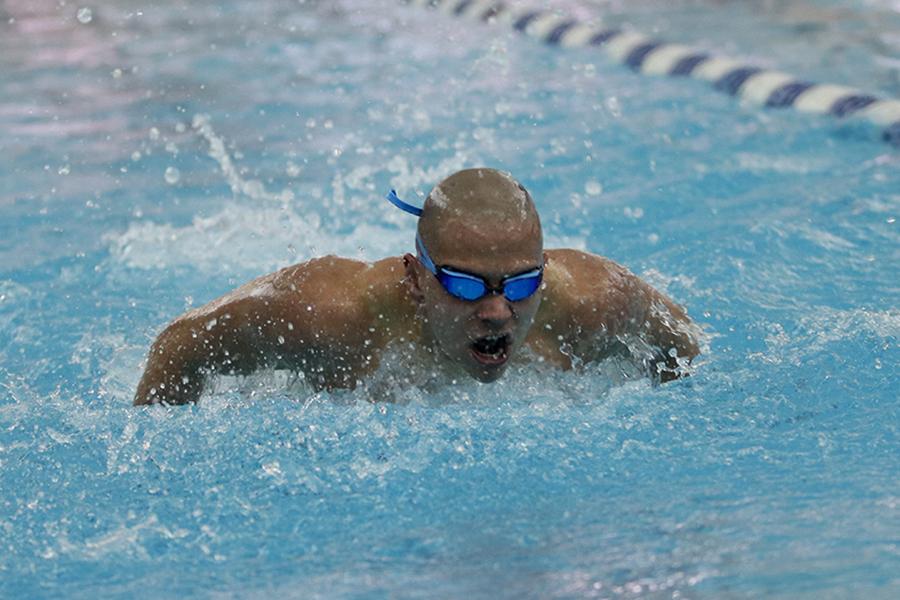 On Saturday, Feb. 17, the varsity boys swimming and diving team competed in the Sectional Finals at their home pool. The team finished in third place, garnering 373 points. For one senior, the meet held greater significance than usual.
"[Swimming at Sectionals] means a lot because it could be the last meet and last event that you're ever racing in, and you'll remember that for a long time and probably the rest of your life because it's such a big moment that you're in," Tyler Childress (12) said.
In addition to his senior sentiments, Childress met particular personal goals, as he overcame an injury that restricted his performance throughout the season.
"For myself, [my goal] was to come back to swimming. I had tendonitis and a small tear in my shoulder. It was hard to come back because I came back during winter break, which is usually our hardest time of practice. Once I came back, it was working as hard as everyone else and as hard as I could. It was a rough ride for me to do all that."
Leading the way to third place, Riley Ingram (11) and John Tinsley (11) each placed second in their four events– two individual and two relay. Tinsley experienced mixed feelings as he reflected on his performances.
"Overall in my personal swims, I'm kind of disappointed in myself. I feel like I should have gone a lot faster, but I was happy with my split in the 200-[yard] freestyle relay because I'm not necessarily the best sprinter, and I went a pretty fast split," Tinsley said.
Though the team competes in the State meet on Friday, Feb. 23 and Saturday, Feb. 24, the Sectional meet still represents a powerful pinnacle of tenacious drive.
"This meet means a lot to our team; it's just the culmination of a whole season's work.  It all comes out in this meet. Everyone gets to show what they've got and how hard they've been training, so [this meet] means a lot to us," Tinsley said.