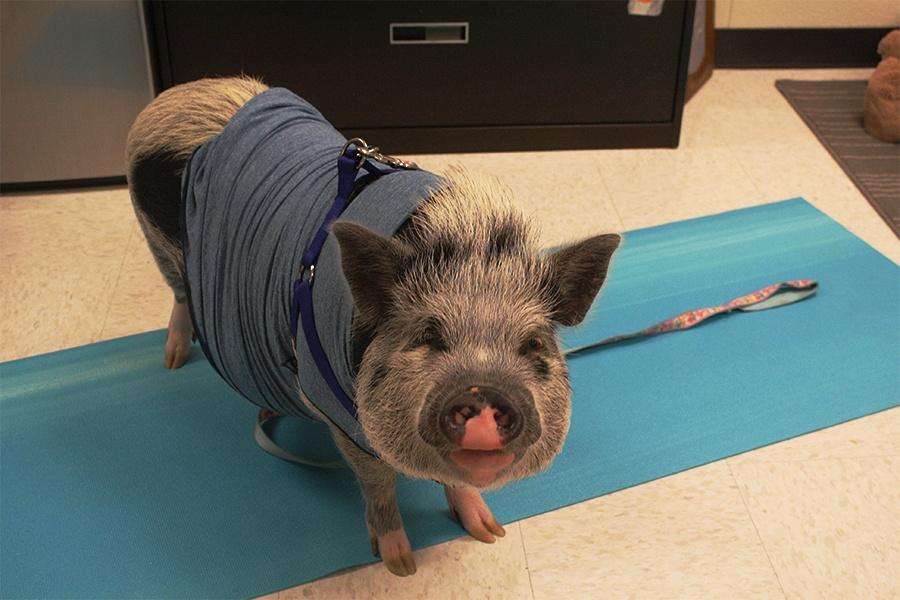 On Friday, Sept. 7, Fozzie, Lake Central's Peer Pig waddled into his first day of the 2018-2019 school year. Fozzie is Mrs. Baird's pet therapy pig.  He occasionally visits Lake Central High School to provide therapeutic relief to staff and students, as well as to take pleasure in all of the love he will receive.
Fozzie enjoys being around all types of people and especially in the school setting.  Sometimes, though, if a student comes too close or too fast for Fozzie, he can get frightened easily.  When visiting Fozzie, students and staff should be advised not to be too loud and not to go towards him too fast.  Fozzie has been certified to act as a therapy pig. Therapy pigs provide affection, comfort and love to people who need it most.
Fozzie has his own area in the classroom where he lays down for students and staff to fork him.   Forking a pig is when you take a fork and place it into his back. This provides the pressure relief that pigs, like some children, need.  Mrs. Baird provides plenty of metal forks and yoga mats for Fozzie to lay on for everyone to enjoy.
Some of the students are hesitant to spend time with Fozzie in the beginning.  It also takes time for Fozzie to warm up to the students. There are other students who are very eager to see and fork Fozzie.  
Fozzie will be back at Lake Central High School within the next few weeks. You can visit Fozzie in Mrs. Baird's classroom, E129.