Brotherhood
There are many branches of the Military, one of them is the Marines, the Marines are a small, but loud branch. Many students chose to go into the military rather than college, some students in lake central have already decided that enlisting in the Marines is the right choice for them.
"I have been recruiting people for roughly a year and a half. It's not really the field, that doesn't really matter, we teach you everything you need so you have many skills going into it, It's not the fact that people don't make it in boot camp it's the fact that they don't want to do it to begin with, that's why you have to the personality for it or they don't think they can or they wait till later those are the reasons, so what we find it that all the people who come to PT they have, even though they are from different towns, different school and they don't know each other, they become pretty close friends because they have the same mentality," Sargent Craft (U.S Marine Corps) said.
Being in such harsh conditions, working hard and cooling off together is bound to bring a few people together. They go on four mile hikes, play football, and train together during PT, the recruitment camp for marines, almost every other day. That is a lot of time to get to know one another.
"The community is just a total sense of brotherhood and everyone is there for each other and even though we joke around with each other and call each other names, we are seriously there for each other and it's like nothing else. The people here have made such a difference in my life, they keep me going and keep me motivated and they are my best friends I seriously don't know what I would be doing with out this, I would be a lazy bum with no future so now I have made some great friends and now I have a future," Zeta Johnson(11) said.
With the hundreds of people enlisting each day, each of them have a reason. For some enlisting  may be a calling or an event that happened to that person or maybe even family. When these people enlist, they finally realize why they joined.
"I grew up in a military family, I have always been around the military. My grandpa was in the  army, my uncle was in the army, my other uncle went into the marines and he's a wounded warrior so we have a lot of adopted uncles from the war (people who saved his life) and they are like family to me now so i've had experience with the military ever since I was a little girl. So I decided to go into the Recruiting Sub Station or RSS Crown Point," Lindsey Mccarroll (11) said.
There over 80 jobs in the marines, picking the right one for you may take some thought. Though you get trained in everything having a chosen field is also an important step in becoming a Marine.
"I want to go into mechanics and engineering, I want to go to college after the marines though. My parents decided to sign up for me, they wanted me to get an education out of it and not just getting deployed over and over," Joe Pacheco (12) said.
Boot camp for Marine Corps is three months of hard work and responsibility. After they graduate from boot camp, they earn the title of Marine, but being a marine isn't just a title to them it's a state of mind.
"Being a Marine is a state of mind, the title is earned through their actions so going through boot camp earns you the title of marine, but it is a state of mind because it affects your perception on a lot things like on the guys here they identify more with this group more than they do with the kids in their highschool and that is why they come here and that's why they like it so much and look forward to it. Even though I take them on five mile runs with ammo kits, it sucks, but it's a lot of fun. When you go on to the Marine Corps, everyone has that kind of mentality,"Sergeant Craft (U.S Marine Corps) said.
About the Contributor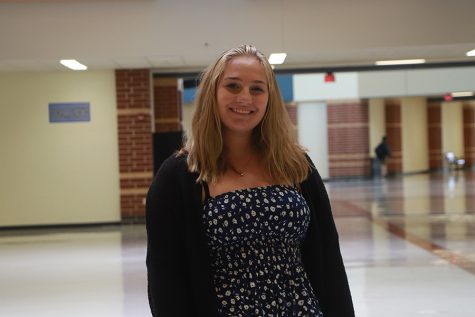 Kelly Hayes, Photo Editor
Hi my name is Kelly Hayes and this year I am a Photo Editor. This is my third year in pub. I am very excited to see how the rest of this year turns out!