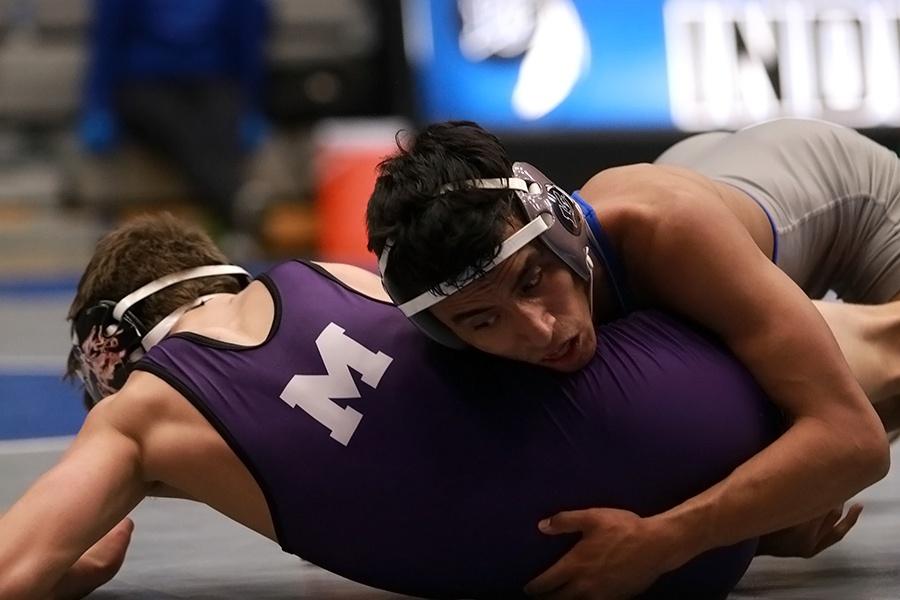 On Wednesday, Jan. 9, the varsity wrestling team competed against Merrillville at home–this being the last home meet of the season. Ultimately, the wrestlers lost to the Pirates with a score of 22-46, with individuals Nicholas Garcia (12), Christopher Ponce (10) and Mason Skrezyna (12) winning in their matches.
"I thought in spots we looked pretty tough. Overall we could have been a little bit better. Merrillville's obviously a tough team–one of the best teams in the DAC. We fought hard in most areas, but we [need to] clean up a few things for Sectionals in a couple weeks. Our team goal the whole time has been [to be] Sectional champ[ions]," Coach Luke Triveline said.
It was also Senior Night, which recognized the commitment and achievements of the team's six seniors: Benjamin Bosold, Nicholas Garcia, Daniel Park, Juliana Ponce, Ryan Russell and Mason Skrezyna. For Garcia, this particular night added special meaning to his individual win.
"I think I showed out for Senior Night. I didn't get the guy I wanted to wrestle, but it was good to show up and win for the home crowd one last time. [Senior Night is so special] because when I was going through the years, watching the seniors leave was pretty emotional–watching the guys that I would wrestle with in the [practice] room every [day] have their last match here. So being in that spot is really special to me," Garcia said.
To Coach Triveline, the night was a time to appreciate the past and also look forward to the future.
"You work with kids that are around for four years. You [form] a bond with them [and] spend a lot of time them, so it is a special night to see them wrestle one more time in front of their home fans. It's sad to see them leave, but there's always a new group that comes in and and moves forward on to the next year."
The team competes in the DAC Championship at Michigan City High School on Saturday, Jan. 12 and at Sectionals on Saturday, Jan. 26.