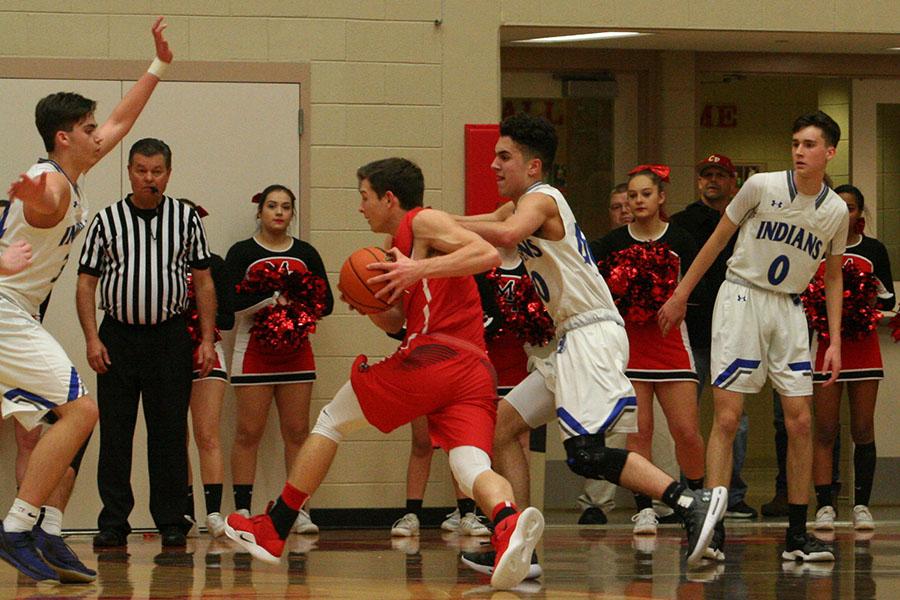 On Tuesday Feb. 27, the boys varsity basketball team competed against their rival, the Munster Mustangs, in their first round of Sectionals held at Crown Point High School. The boys unfortunately lost 57-44.
"My teammates and I played our hearts out, but just fell short. We could have hit a few more shots but you can never blame a loss on not hitting our shots," said Dominic Ciapponi (12).
Coach Dave Milausnic, Mathematics, prepared the boys for Sectionals by working on shooting drills, fundamentals and plays during practices leading up to the big game.
"Coach Milausnic did a good job preparing us for their plays and their defense.  We talked about cleaning up some areas on the defensive end and finishing the job," said Jack Davis (12).
At halftime, the game was close, the Indians were down 21-20. The score was very close the entire first half of the game, but unfortunately, Munster scored a few points which led them to keep the lead.
"At halftime, we were only down one, so we focused on maintaining the same intensity we went at the first half with," said Kyle Blum (11).
Tensions ran high as the seniors ended the last game of their high school career with a loss. For most, it was a devastating and emotional game.
"I was devastated after the game because that's the last high school basketball game I will ever play in. The hardest part of the game was knowing it could be my last game I will ever play with my teammates," said Davis.