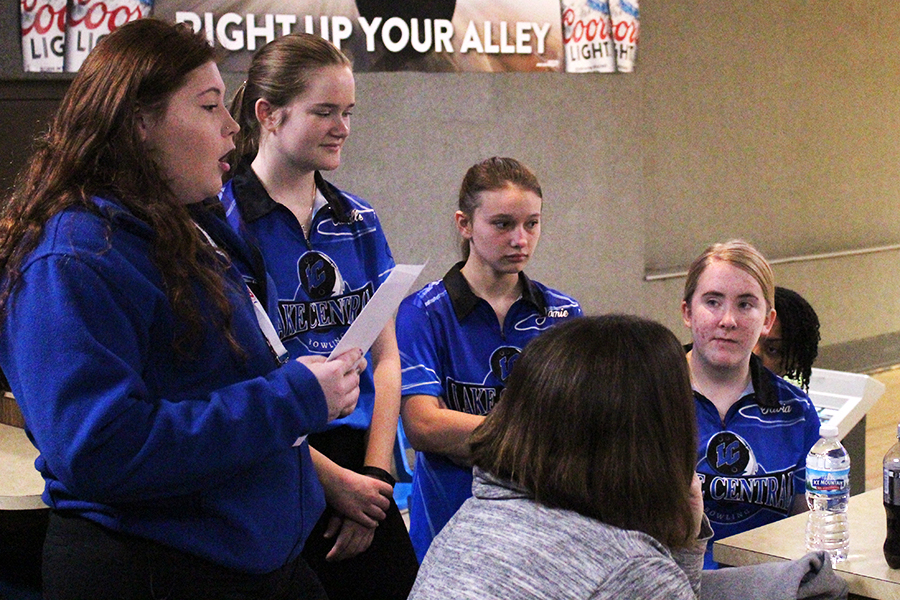 On Saturday, Jan. 11, the girls bowling team played in the sectionals tournament to compete for a spot in regionals.  Everyone was excited as the team warmed up, and they looked forward to the day ahead of them.
   "Going into sectionals, I knew that my team had prepared for it and I knew that we were going to give it our all.  We had some nerves, but we gave it 100 percent," Alaina Collins (10) said.
   The head coach of the team was not able to be at the tournament, so Hannah Bohlin, the assistant coach, stepped in.  This was her first time independently coaching a team, and according to Camille Hauber (10), she was a great leader for the team.
   "I think Hannah did a great job coaching us.  She knew what to say to hype us up. You could tell that she was a little nervous at first because she's never coached before, but after the first couple of games she stepped in and coached us to a big accomplishment," Hauber said.
   During the sixth game of the day, the team placed at around 4th overall.  To make it to regionals, the girls had to be in one of the top two spots. It was a close race for the top three teams, and the team needed to beat Highland by 83 pins to qualify.
   "We were fourth in conference and to go from that to getting sectional runner up was a big accomplishment. No one expected it," Collins said.
   The team came together to deliver a final blow to their competition and ranked second overall.  The girls were ecstatic that they made it to regionals, and spirits were extraordinarily high.
   "Our team really came together in a critical situation when the team was at stake," Julianna Bohlin (11) said.