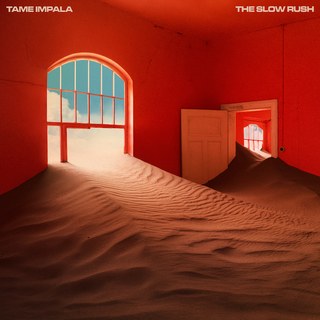 On Feb. 14, Tame Impala released his highly anticipated album "The Slow Rush", which made the perfect Valentine's Day gift for fans. The album has a total of 12 songs on it.
   Tame Impala was born in 2007, consisting of writer, producer and singer, Kevin Parker and ensemble Dominic Simper, Jay Watson, Cam Avery and Julien Barbagallo when on tour. In 13 years, Parker has released 3 studio albums, 2 live albums and 3 EPs.
   The album's release took 5 long years in the making. Fans have been desiring new music ever since the release of "Currents" in 2015.
   This particular album has already become one of my favorites so far. As soon as I heard the beat and the rhythm I fell in love. I think that Tame Impala is known in the music industry to be hardly like others, which creates the inevitable uniqueness amongst meaning, composition and impact. I wish that Parker hadn't released almost a  quarter of his album prior to the album's release ("Borderline", "Posthumous Forgiveness", "Lost in Yesterday" and "It Might Be Time"). Although I did enjoy the music whilst waiting for the album drop, I think it would have a larger impact on critics and listeners if he had just waited.
   My favorite songs from this album are "One More Year", "Breathe Deeper" and "Is it True". I think all three of these songs have catchy lyrics along with very unique rhythms which is why I like them so much. Kevin Parker's music is so different from mainstream music which makes me admire his pieces more. I would describe this album to be psychedelic with a 70s/80s influence. When listening, it feels like you're transported to a happier world so to speak. I tend to forget all things troubling and just absorb the music. I definitely would not say the album is different from what Parker usually produces; I personally didn't hear him taking any risks, but it is still phenomenal.
   I would recommend this album wholeheartedly to those searching for a mood booster. 
   Tame Impala will be kicking off his tour March 9, in San Diego, California and lucky for us in the Region, on Fri. May 29, Parker will be performing at the United Center in Chicago, Illinois. "The Slow Rush" is available to stream on Spotify, Apple Music and any other music service.