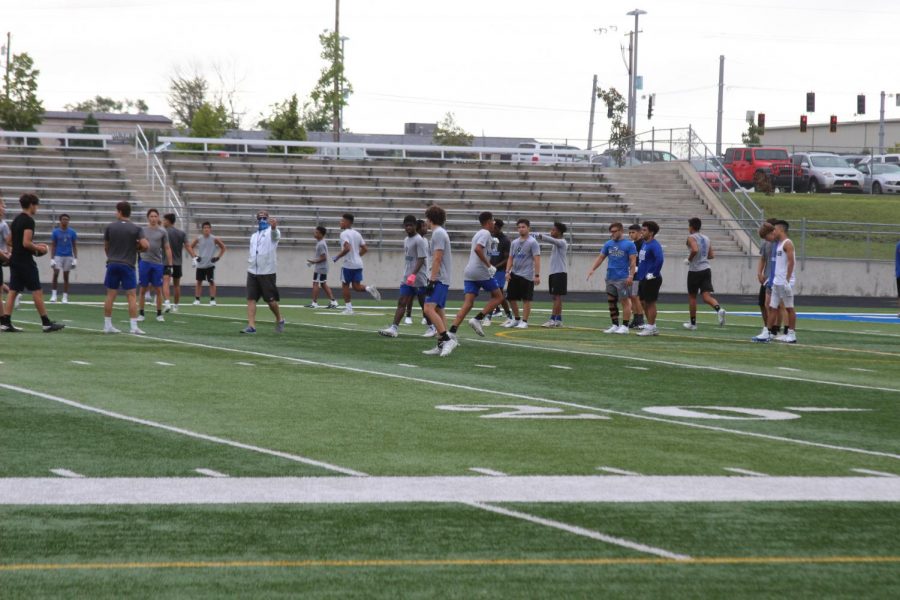 Kaitlyn O'Drobinak
The world around us is changing every day. In this world of uncertainty, people need something to hang on to, a safe place, one thing that they know will never change. For high school athletes, that safe place is sports. This year's athletes have gone through so many ups and downs. From not being able to condition until July to the constant questioning of whether or not it's going to be their last game, these athletes never know what is coming next. 
   "Obviously all of the players are all hyped and ready to go, but it's just weird knowing there's a chance we could not have a full season," Noah Grimmer (12) said. 
    During previous seasons, the end goal has always been to make it to state. So much has changed this year that athletes could play in their last game and not even know they will never touch the field or court again. The uncertainty isn't the only thing changing this season, but practices and games have changed immensely to accommodate the CDC's standards of proper social distancing to prevent the spread of COVID. Each sport has their own rules about what can and can't happen at practice. 
    "During cross country practice, we have to stand six feet apart at cones every minute we are not running as well as keeping our masks on while we stretch both before and after we run. Then when we run we have to run in two lines that are six feet apart," Emily Thomas (12) said. 
    The IHSAA's rule states that athletes have to wear a mask every minute at practice they are not participating in "rigorous-activity." In terms of cross country, that means only taking it off to run.  Other sports, such as volleyball, have different rules.
    "We usually begin to lift in July, but we weren't able to lift until the beginning of August and in the weight room everyone has their own station. Masks are also new and we have to wear them in and out of the gym, during non-rigorous activity, on the bench during games and on the bus," Lily Robinson (12) said. 
    While returning athletes may be having a difficult time adjusting to these new rules, freshmen are coming onto new teams with no experience and no idea of what a normal high school season even looks like. The freshman class of 2024 has never experienced a normal high school season and has the possibility of never experiencing a high school season.
    "I have been looking forward to playing high school soccer for so long, but I never expected a season like this. Now that I have played my first game and had practices as a freshman, the rules are so different, but I still love playing with my team," Miller Knestrict (9) said.
    Although the world is constantly changing, these athletes continue to compete every day. It is unknown what will happen and how the rest of the season will play out, but if one thing is for sure, it's that these athletes have stayed positive throughout all the ups and downs so far and they will continue to do so.
    "At the end of the day, I'm still able to go to volleyball and play with my teammates and friends. The love for the game doesn't stop because of a mask or not giving high fives," Lily Robinson (12) said.