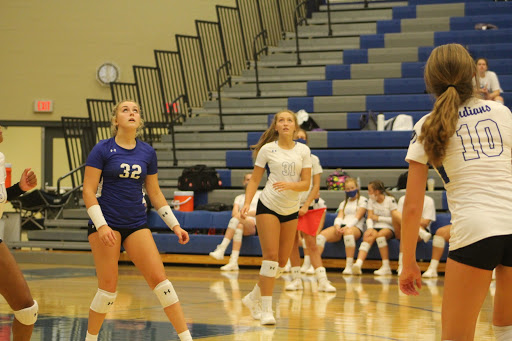 The JV Girls Volleyball team defeated Valparaiso in two matches on Tuesday, Aug. 25, with the score of the first match being 25-17 and the score of the second being 25-21. Although the two teams battled back and forth, often emerging in a tie, Lake Central worked to come out victorious in the end.
   "This game went pretty well. I think we could have communicated more, but overall it was good. I think we could have set outside a little bit more and played better on the receiving," Leah Lindborg (10) said.
   Although the girls believe there are certain measures they can improve on, they also commend one another when something is done well. After winning both matches, Lindborg reflected on what her team accomplished.
   "Our hits overall were really well this game, and we were hitting strong in the spots in the back row. I would like more communication [in the next game]," Lindborg said.
   Despite the team's wins, they have faced various Covid-19 related challenges this year. However, they worked throughout the season to overcome them, and the team is now prepared for the remainder of their season.
   "Recently, I think about five of the players had to be out for two weeks because of a Covid incident, but otherwise I think we're doing pretty well. Sometimes we do get yelled at," Lindborg said.