Q & A: Kyle Orciuch (10)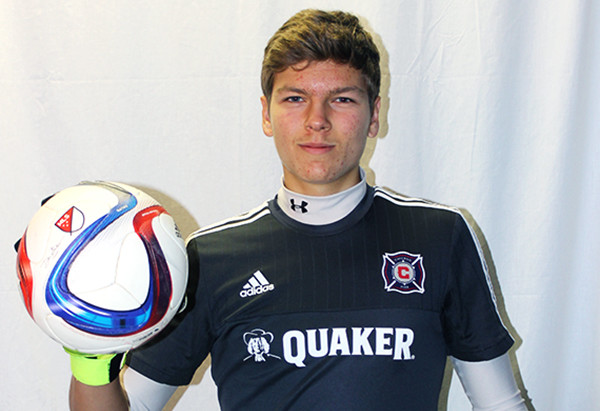 Q: What is the Chicago Fire Academy?
A: The Chicago Fire Academy is an elite player development program for the Chicago Fire, a team of Major League Soccer. The goal of the academy is to produce local, homegrown players who sign contracts with the club either before or after college.  
Q: What position do you play?
A: My position is the goalkeeper. My job is to prevent the opposing team from successfully moving the ball over the line of my goal and to organize the defensive backline in order to efficiently lessen the danger of attacks made by the opposing team.  
Q: How long have you been playing soccer?
A: I started playing soccer at the age of five.
Q: What teams have you played for?
A: I've played for four soccer associations in total. Initially, I started with Schererville recreational soccer, but the level of soccer prompted me to move up to the Indiana Tigers, a premier club. After the Tigers, I went to the Chicago Fire Juniors NWI, a Chicago Fire youth affiliate. During my years with the Tigers, I also played for the Olympic Development Program (ODP) Indiana State Team for one full year, eventually making the Midwest regional team pool in the same year.  Finally, in May of 2012, I tried out for the Chicago Fire Academy and made the team. I have played for this organization ever since.  
Q: How did you get started in soccer?
A: My dad signed me up for recreational soccer because he wanted me to play the same sport he did.
Q: What are you goals in soccer?
A: My main goal is to sign a professional contract with Chicago Fire after four years of college.  This was also the same goal that Eric Gehrig, an alumni of Lake Central, had in mind after high school graduation.   

Q: What's your favorite thing about playing?
A: As a goalkeeper, it's [a] great feeling to steal a goal from an opponent in order to see the dumbfounded look on his face when he knows he has experienced a daylight robbery.   
Q: Why is soccer important to you?
A: Soccer is important to me because it's my dad's sport and I want to honor him by carrying on the legacy that he started.  Another reason is the opportunity [it provides] to acquire a scholarship to a college where I can pursue a great education.
Q: Who is your role model in soccer?
A: My role model is certainly Manuel Neuer, the starting German national team goalkeeper. He is the model of the next generation goalkeeper because of his presence out of his box and his effectiveness in helping his defense in times of need.   
Q:What has your biggest achievement in soccer been?
A: My biggest achievement in soccer would probably have to be the fact that I tried out and made the Chicago Fire Academy in the first place and that I have stayed there for three years and counting.