Buzzer beating business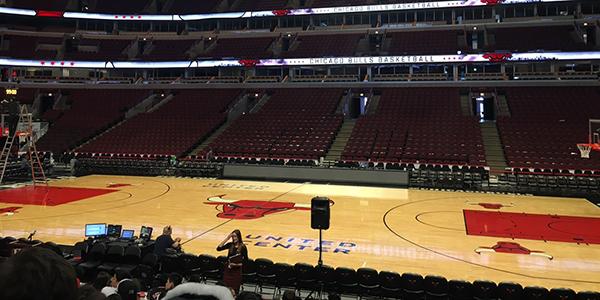 Students of Lake Central filled the United Center on Thursday, Feb. 16. The Chicago Bulls business team hosted their 16th annual Career Day. All business and marketing classes were invited to join the field trip.
"[We have been doing the field trip for] probably around five or six years. The Bulls provide a bunch of speakers at different levels of marketing jobs. They go from entry level to people [with] the Bulls for 20 years. They kind of tell the kids how they got into the business, what they've done, and then the kids get to ask questions to the speakers. [The kids] ask some great questions. I think it gives them a good opportunity to ask people that are in the field, how do you get in that field," Ms. Terri Budlove, Business, said.
Students were eager to learn more about jobs they were interested in. After the students attended the seminar, they were allowed to stay and watch the players practice for a while before the crowd rushed in. Students impatiently scrambled to their seats to watch the game of basketball. With only .9 seconds left in the game, Jimmy Butler secured the win for the Bulls.
"Last night the game was so close and a lot of the kids were so excited standing up and cheering. [My favorite part of the field trip is] seeing [the kids] happy, making new friends [and] getting out doing something different that's productive," Budlove said.
As for advice, many people on the Bulls business team had a lot to say about what got them into their jobs at the seminar. They said getting your name out there is key to success and promoting yourself will help people get their desired job.
"[My favorite part of my job is] work for [my] dream team. [I love my job because] as a little kid growing up in the Chicago area [and] being in love with the game of basketball. Having an opportunity to work for the team you always admired [is the best part]," Anthony Horton, Bulls manager of inside sales, said.