Q&A: MITCHELL POLASKI (11)
Q: How long have you been on the varsity track team?
A: [I have been on the varsity team] since freshman year.
Q: What events do you run?
A: [I run] the 4×800-[meter relay], the open 800-[meter], the mile and occasionally the 2-mile.
Q: How often do you practice?
A: Everyday, for an average of two hours.
Q: What other sports do you participate in?
A: Cross country.
Q: How is track different from cross country?
A: Track relies much more on speed than cross country, especially when I switch from running a 5-[kilometer race] to an 800-[meter race]. With track, you may race individually, but when you're part of a relay, you form a special bond. In cross country even though you are working with your whole team you don't rely on them directly and don't pass batons.
Q: What made you start running and stick with it?
A: My parents were really into [running], which got me into it. As I got better, I just really wanted to keep on going.
Q: Do you plan to run after high school at the college level?
A: It depends on how the next two years go. [Running after high school] is a strong possibility.
Q: What makes track different from other sports?
A: Many other sports do not use a continuous supply of maximum effort, but in track you have to put forth everything you have every time if you wish to do your best for your team and for yourself.
Q: How has running affected your life?
A: Running has introduced me to many new people and opportunities. It definitely cuts into time you have to complete homework, but running gives me the motivation to do the homework most days.
Q: What meets are especially important this season, and how are you going to prepare for them?
A: The main meets this season are [Hoosier State Relays] and the tournament season meets. Our practices always keep them in mind to prepare as well as having proper nutrition.
Q: How does being an upperclassmen differ from your previous years on the team?
A: Now that I'm an upperclassman, I feel much more responsible for encouraging the team and leading them to do their best as well as setting a good example for the underclassmen.
Q: What are your goals for this season?
A: My goals for this season would be to improve in my events, as well as help our relay team into the tournament season. It would be great to be able to compete as an individual as well in the tournament season.
Q: What has track taught you?
A: [Track] puts much more emphasis on working hard to achieve my goals in life, and that even when things are looking rough, you have to be able to persevere. Also it has taught me that a rest day can help you relax, recover and realize your goals.
About the Contributor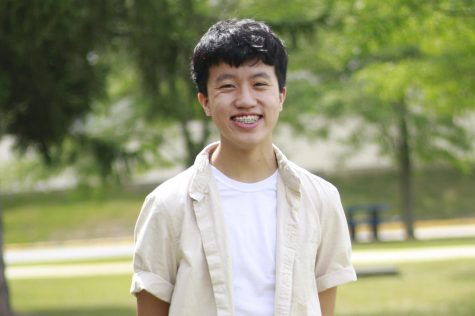 Joshua Chen, Scout Editor-in-Chief
Hi, my name is Josh! This is my fourth year in pub, and I am this year's Scout Editor-in-Chief. I'm super excited to highlight stories from diverse...