Review on "The Disaster Artist"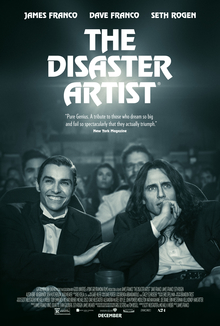 "The Disaster Artist", based on the memoir of the same name, presents a hilarious, inspiring and fascinating look at the making of one worst movies ever made.
When Tommy Wiseau's disasterpiece "The Room" was released in a single theater in California in 2003, I don't think anyone could have predicted the movie's impact on pop culture for years to come.
The so bad, it's good movie has managed to remain relevant 14 years after its release, having Rocky Horror-like midnight screenings in multiple cities, achieving cult status and many giving it the title of "the best-worst movie ever made." Who could have foreseen the best selling novel and Golden Globe and SAG Award nominated movie that would come from of it?
"The Disaster Artist" takes a look at struggling actor, Greg Sestero (Dave Franco), who develops a friendship with the mysterious and eccentric Tommy Wiseau (James Franco) after watching his dramatic and fearless performance in his acting class. As Greg and Tommy's friendship develops, they decided to move to Los Angeles together to pursue their dreams of acting. After both have little success, Greg tells Tommy he wishes they could make their own movie, which Tommy thinks is a great idea. With that, Tommy writes "The Room", a melodrama centered around Johnny, a "true American hero" who gets manipulated and betrayed by his fiancee, Lisa, and his best friend, Mark. The rest of the film documents the mess of making "The Room", as well as Tommy and Greg's wavering friendship.
I loved this movie. As a fan of "The Room", I've been anticipating this movie since the first teaser came out, showing Wiseau's numerous attempts to film the infamous "Oh, hi Mark" scene, and it lived up to my expectations. The film isn't only a hysterical look at how much of a mess "The Room" was from the start, it's also an inspiring and somewhat emotional story of two friends trying to pursue their dreams. Fans of "The Room" can appreciate this movie because it's a true tribute to the cult classic, filled with iconic moments fans of the 2003 film can easily distinguish.
James Franco steals the show as Wiseau. Under a long, black wig, blue contact lenses and heavy prosthetics, it's almost frightening how identical James is to Wiseau, from his accent, to his timing. This is arguably his best work as both an actor and a director. Other notable acting performances come from Dave Franco, Seth Rogan and Zac Efron, who is in the film for a short amount of time, but manages to create one of the most memorable moments in the movie.
Overall, "The Disaster Artist" is a film any "The Room" fan or general moviegoer can appreciate for its acting, humor and story.