Hustle, Hit and Never Quit
On Tuesday Aug. 21, the girls Varsity Volleyball team fought against Valparaiso at Lake Central. The girls played three matches and won all of them. The game was very close but the girls managed to pull a win.
"I am super optimistic. We were ranked really low but, we've been beating teams that were ranked above us so, I think we will do really well this season. We haven't beaten Valparaiso in three sets or beat Valparaiso alone in a couple years so, it is really great to be able to take a clean sweep from them tonight and beat them in three sets," Taylor Marten (12) said.
Every player has some type of skill or task that they need to practice in order to get better. Improvement is the best thing a player can do in between games whether it is a team improvement or a personal improvement.
"We could improve on communication because there's a lot of plays where the ball drops because no one was talking, so that's probably the number one thing," Maggie Mulligan (11) said.
Every girl on the team fights their hardest to win every match. Each one puts in a great amount of effort to keep the other team from scoring.  This can be a hard task to fully accomplish every match but, the girls do not let their hopes down even if the other team is ahead. They keep their heads high and their spirits higher.
"My team's strongest point is when the other team scores a couple points, we don't let it rattle or bother us. We just come back and fight harder," Marten said.
About the Contributor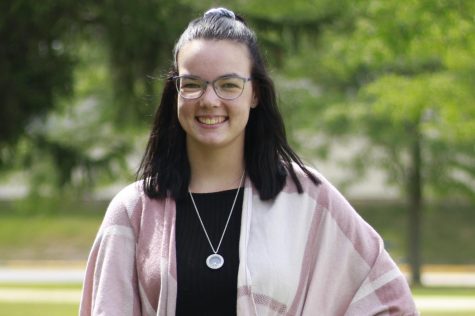 Claire Faberbock, Copy Editor
Hey! My name is Claire and I am one of the Copy Editors.  This is my third and final year of Publications and I am excited to see what this year has to...