Setting high goals
The JV volleyball team played a tough match on Sept. 11, taking down the Slicers. LaPorte took the win for the first game, just barely outplaying us with a score of 25-17. Wanting revenge and a win, the Indians made a comeback in the second match.
"We struggled in the first match, but in the second and third we finally worked together as a team," Abigail Zachary (10) said.
The girls ended up winning the second game with a close score of 25-23. They played their hardest during the later half of the game to take down the Slicers.
"We really wanted to win the game because we knew we could beat them. It would be a hard fight, but we definitely earned that game," Kate Mahoney (10) said.
Winning the second game was simply not enough for these ladies and a win in the third game was necessary for an overall win. It was a tough fight, but the girls played hard and came out on top making the final score of the third game 15-8.
"I think we really came together and played really well as a team. The second game we started out with energy and fixed all of our mistakes," Lily Robinson (10) said.
For those who want to support the Lady Indians, the team's next game will be against Valparaiso High School on Sept. 13 at 5 p.m.
About the Contributor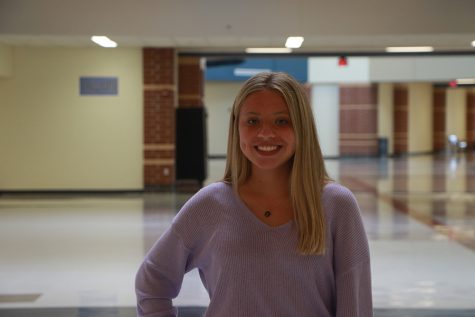 Riley Knestrict, Web Content Editor-in-Chief
Hi! My name is Riley Knestrict and I am a senior. This year, I am the web content editor-in-chief. In addition to being in publications, I run cross country...