Memories On the Field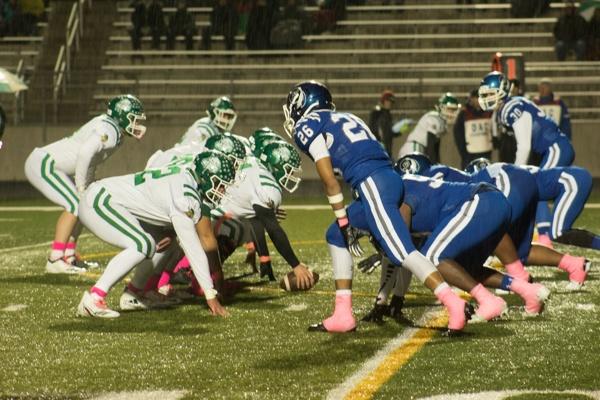 On Friday, Oct. 12, the varsity football team played against the Valparaiso Vikings. At the Lake Central home stadium on senior night. Parents, friends and family got to walk onto the field with their senior player to honor their time on the team. Clay Truman's (12) father talked about walking his son onto the field, making him remembering the first time he played football.
  "I really enjoyed walking him down the field tonight. He was only in fifth or sixth grade when he started playing football," Mr. Truman said.
  Starting off in the first quarter with two downs, Valparaiso was winning 14-0. With only five minutes left in the first quarter, the team continued to play in the rainy weather, trying to gain points to make up for the score difference.
  "Tonight is like any given Friday. I hope they have a win and get through the weather," Mr. Truman said.
   During the second quarter with just four minutes left, Valparaiso was still winning 28-0. The student section continued to cheered them on, supporting their pink uniforms worn for breast cancer awareness.
   "We moved from Woodstock, Illinois, and Clay started playing for Lake Central his junior year. It's a really good environment here, it's very tightly knit," Mr. Truman said.
  By the middle of the third quarter, Valparaiso was winning 35-0. Chayse Sykes (12) stopped a Valparaiso player from almost scoring a touchdown.
  "A lot of the kids [stick] together, like a brotherhood. The kids really hang on to every word the coaches say. It doesn't matter if the season is lost. All that matters is that they are all together," Mr. Truman said.
  By the end of the game, Valparaiso had won 42-0. Though the team was upset about their loss, still sticking by each other's side.