"Glass" (2019) Review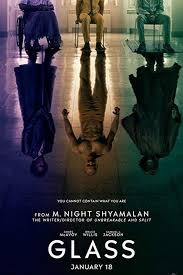 "Glass" (2019) was the last movie of the "Unbreakable" series directed by M. Night Shyamalan. The series included the movies "Unbreakable", "Split" and "Glass". Glass had pretty high expectations because of the success and amazing production of "Split". However, the movie did not quite shatter expectations. Overall the movie wasn't half bad, but the abrupt ending kind of ruined the whole thing.
The movie started out strong as it introduced a connection between all the characters right away. Each of the main characters individual performances were amazing, but the writing was poor. Most of the movie took place in some kind of psychiatric prison. Each of the three main characters were placed in a room that were specifically made to contain their abilities.
The fourth main character in the movie was a doctor who was tasked to convince the subjects that they didn't have superpowers, but instead that they made themselves believe that they did. One of the villains of the series named Mastermind was secretly working to break everyone out of the facility so they could finally fight.
The escape sequence of the movie was very fun and exiting. The buildup to the final fight between the three main characters was very well done and masterfully put together. Unfortunately, the ending fight was very, very underwhelming. It didn't last very long and no one really put up a fight. The protagonist met his end by being drowned in a puddle because his weakness was water. The monster from Split was fatally wounded very quickly and his death didn't have as much of an emotional connection as most would have expected. The Mastermind's bones were broken very quickly, immobilizing him for almost all of the battle. He later died from his injuries.
Overall, the movie wasn't terrible, but the quick ending where all of the characters died just didn't give the type of payoff that I feel the trilogy deserved.