Q&A: Tenley Edvardsen (10)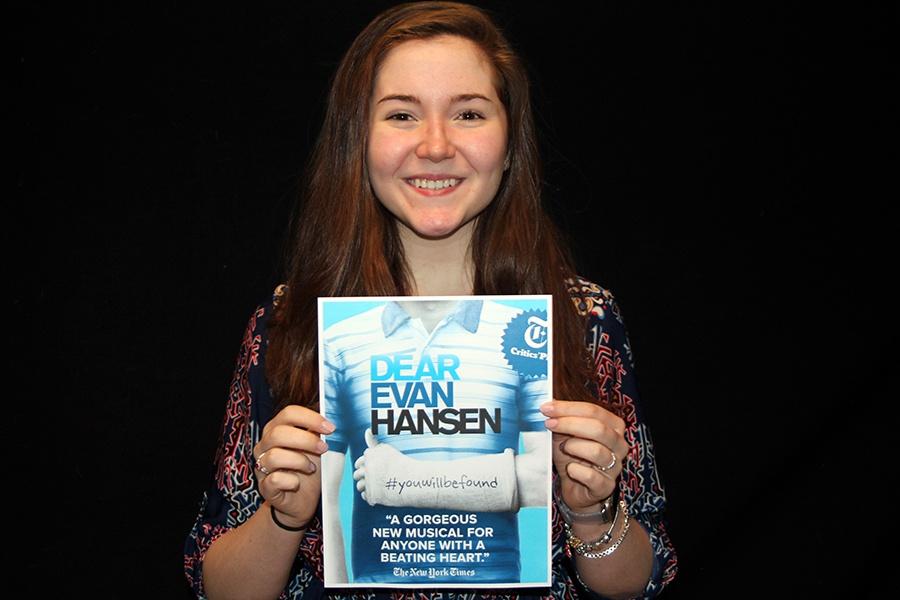 Q: What did you audition for?
A: I auditioned for 'Dear Evan Hansen.' They were having call out auditions for the Toronto production, London production, the national tour and future productions like wherever they will be. Q: How'd you find out about it?
A: I went to see the show March 1st and it wasn't in every single Play Bill, but it was in my friend's Play Bill. This flyer was in there with information and everything and I was like, 'oh my gosh, I have to do it.'
Q: What was the process of applying like?
A: You could do an online audition where you submit a video of a cutting that you had to sing, but I didn't want to do that. [Instead, I went] to Chicago and it was in the West Loop where it was held. A casting agency was doing them, so people showed up whenever they wanted to. There were 800 people that showed up and I was number 225. I got there around 7:30 [a.m.] and I didn't audition until around 3 [p.m.] You had to prepare 16 bars, which is normally a minute and thirty seconds of song and then you had to bring your resume and headshot. Once it got to a hundred people, they cut it down to eight bars, which is thirty seconds of a song so they could get through more people. It was an experience for sure.
Q: Were you nervous?
A: I wasn't nervous, I was tired and cold. I just wanted to get it over with. I'm nervous now because I'm just waiting for a call back. Doors didn't open until 9 [a.m.], so I had to wait until then. Then they told us to come back at 12:30 [p.m.]. I was waiting outside for two hours before I sang, so I was outside for a while. When I was at the door, I was so nervous, but there was a guy at the door telling people to be quiet and he was like, 'don't be nervous. Have fun.' Once I got in the room and I was super calm.
Q: Who came with you?
A: My mom came with, but there were people from Virginia, Ohio and Wisconsin that I talked to. There were people from everywhere that came for this.
Q: Did anyone encourage you to audition?
A: When we saw [the flier] during intermission, my friends were like, 'oh my gosh you have to do it. You're doing it.' My mom thought about it for a little bit and she was like, 'why not? We live forty minutes away, it's not a big deal.' The only problem was that I had rehearsal for the school musical that day and you have to be at school for two periods to go to your after school thing. We contacted Mrs. Neth and she gave us permission. My mom talked to Mrs. Novak and we got permission.
Q: When do you find out about call backs?
A: Saturday was supposed to be call backs, but they only got through four hundred people on Thursday and they were like, 'well we have to see the other four hundred people,' so Saturday was the normal auditions. I don't know when the call backs are going to be, but it'll probably be soon. Normally at call backs, they ask you to sing a song from the show or read, do a scene with someone from the show and they pick from there probably. It was very exciting.
Q: What was your experience like?
A: I talked to a girl who was in line and she went to Columbia. She auditions all the time and she said, 'get used to it because it'll be the same.' People call [the open auditions] cattle calls because everyone just goes. It's very crazy and I got a view on everything. My mom was like, 'do you still want to do this?' I just have to get used to the waiting, the long process and everything. I hope I get to audition more.
Q: Did you have to pay to audition?
A: No, when it says open call, it means everyone can come. If I had an agent or agency, their job is to find you auditions, so the girl that I was talking to, her manager found her the audition. We had our number sheet and you had to fill it out and everything. It said that if you have a manager or agency, put it down. It wasn't mandatory, but I didn't have to pay or anything. Everyone's welcome, which is very nerve wracking.
Q: What shows would you want to audition for in the future?
A: I would really like to be in 'The Phantom of the Opera' and 'Wicked.' That was the first musical I saw, so I have to be in that. I'm fine with anything really. I like everything.
About the Contributor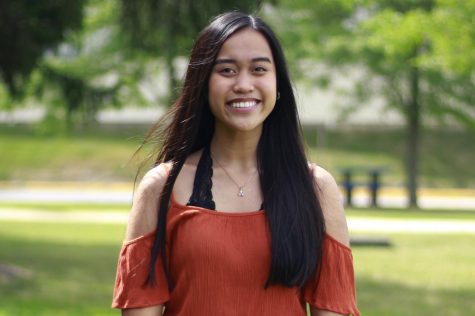 Charmagne Abangan, Online Editor-in-Chief
Hi, I'm Charmagne Abangan! I'm a senior and this is my third year of being in publications. I can't wait to take on the position of being Online EIC with...