Shaving For Change
The day before the St. Baldrick's pep rally, Nick Firlej (11) sat in the middle of the hallway on the second floor surrounded by his laughing friends. Behind him, students took turns brandishing a razor, smiling while clumps of hair fell to the floor. Nick shaved his head a day early, but this isn't his first time.
"I shaved my head last year because a couple of the other guys on the track team were doing it. I always debated doing it in middle school because some of my friends did it every year. Last year, I really thought that it would be a good idea, so I decided to continue this year. I actually don't look too bad bald," Firlej said.
This year, Nick has raised over $160. It's a little less than his goal, but he's still proud of his accomplishments.
"I'm not doing it in front of the whole school because we have to go to Science Olympiad state. I'm definitely going to do it next year. If there's the possibility to do this for any organization in college, then I'm definitely down to do it," Firlej said.
Nick plans to raise $500 next year. If he earns an extra $350, he'll shave off both of his eyebrows.
"I don't personally have a connection to cancer, but I believe it's really important to help fund the research that could eventually end such a horrible disease," Firlej said.
About the Contributor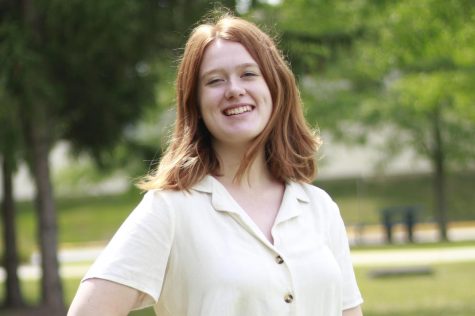 Maisie Westerfield, Yearbook Editor-in-Chief
Hi! I'm excited to be yearbook editor-in-chief this year! This is my fourth year in pub. My favorite things are Twitter and bubble tea. :)