Little Things Make a Big Difference
There are numerous clubs that involve getting volunteer hours but there are also some classes that volunteering is part of the curriculum. Mrs. Pamela Neth, advanced theatre classes need to complete a certain amount of "Acts of Kindness". Neth's fifth hour advanced theatre "Freak" cast and crew are participating in there own charity.
The show is about what happens after someone commits suicide and it grows through the struggles that many people may face and the loss of hope but the show ends on a hopeful note. Cast, crew and directors for the production all came together to discuss what they can do to raise awareness for suicide.
  "I think the show will influence the audience greatly because it is a tough subject matter, but we treat it with respect. There are many people who know others who committed suicide and I think for those who don't know anyone who have been affected by suicide, will be very aware of it. After the show, we are doing donation buckets and it will go to a great cause and I hope that our show touches the audience in ways other shows can't. Freak uses crazy costumes with extravagant characters to develop a story between them. They really do help each other in the end," Andi Kalemba(10) said.
"The characters in the show go through some pretty heavy stuff, suicide and mental illness being the common theme between the characters. It just makes a lot of sense that we'd take the message of hope from the end of our show and do something more than just talk about it," Sky Feminella(11) said.
They want to sell candy, chips, or other food items that cannot be found in the lunch line. They are allowing other students in their class to donate the food for their community services as well as passing around a money bucket before their performances to raise extra money. All the money they raise is going to a organisation named after a local teen who committed suicide
"I'm really excited about our show and the community service were doing with it. It is for a really great cause and it fits our show and the message were trying to convey," Brooke-Logan Garcia (10) said.
With doing a show about such a serious topic there are bound to be a few critics in the audience. The directors of the show came up with the idea to raise awareness and show people that this is not a topic they take lightly.
"I think the Freak is a fun show to do with all the costumes and crazy characters, it has its lighthearted moments and towards the end it gets kind of sad but suicide is a very affecting topic. Depression is not fun especially for teenagers because we're going crazy with stress and things so I think that the older people who come and see the show will be like wow teenagers really do have big problems and that's really important for the older generations to know," Paige Varady (11) said.
About the Contributor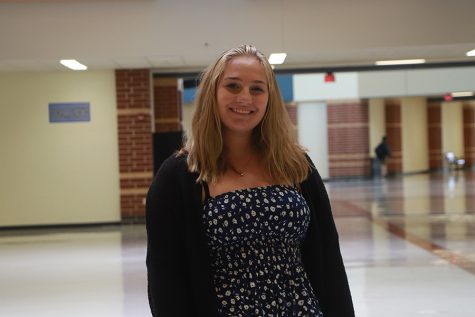 Kelly Hayes, Photo Editor
Hi my name is Kelly Hayes and this year I am a Photo Editor. This is my third year in pub. I am very excited to see how the rest of this year turns out!