Q&A: Lily Haro (10)
Q: Why did you decide to join color guard in the first place?
A: "I decided to join color guard because it was a new opportunity for me to branch out into something new."
Q: What are some of the things that you have learned in color guard?
A: "Some things I've learned are patience, teamwork and confidence."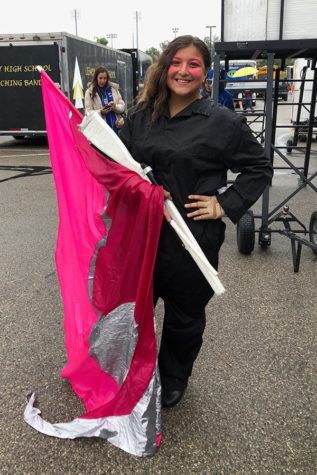 Q: What type of leadership position do you have? Is there a specific name for the leaders?
A: "I have the leadership position of a captain. The captains, or leaders, are called section leaders."
Q: What type of qualities do you believe a leader needs?
A: "I think a leader needs natural leadership skills, kindness, patience and loyalty."
Q: How did you get this position?
A: "I got this position by taking part in an interview."
Q: As a leader, what is your job now?
A: "As a leader, my job is to lead the program to improvement from the member of a team perspective."
Q: What tasks are you required to perform as a leader?
A: "Tasks that a leader is required to perform is to help and encourage new members, encourage [others], and keep the motivation of the team high."
Q: Does being a leader seem different than any other position or person on the team?
A: "Being a leader does seem different because it's like going from sitting on the sidelines to playing the actual game, metaphorically speaking."
Q: How do you think the team is going to perform for next season?
A: "I think the team is going to have very high success levels because we have a strong bond among one another and have been training really hard. I also think that we have the right staff in order to achieve large"