Triumph on BPA State Stage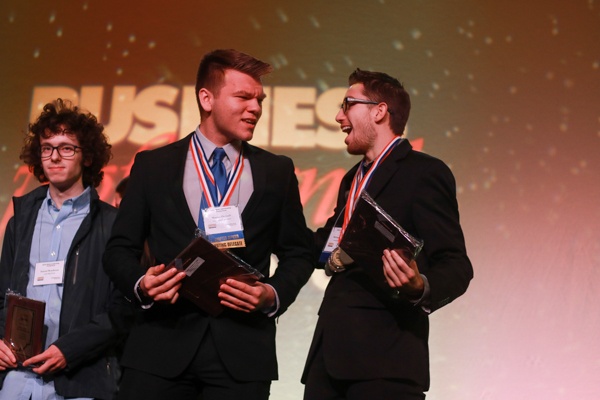 Members of Business Professionals of America arrived in Indianapolis, IN on Sunday, March 10 to attend the State Leadership Conference. Over two days, members competed in a variety of events related to fields such as programming, digital design and finance. Despite a sharp decrease in the number of State qualifiers this year, the group saw an accomplished showing at the awards ceremony. Eleven members, including one team, placed in the top ten in their respective events; three individuals and the team received first place.
"[Our performance] was outstanding. We had several winners, probably as many or more winners than we've had in the past, so [this was] definitely a great year," Mr. Todd Iwema, Business, said.
Out of the eleven individuals who placed, nine qualified for the National Conference in Anaheim, Calif. It will take place May 1-5.
"It's always nice to have kids that are very successful [at Nationals]. It helps them with their college applications and any scholarships they may go after. That, for me, is more important than anything. But I do like the fact that last year we had two National champions, and it seems like every year we do always do very well at Nationals," Mr. Iwema said.
For many, this State competition was the last one they attended in high school and became an opportunity to reflect on their high school experience in the club.
"[BPA] has given me a chance to explore more things in computer science [other] than my normal classes and my own research would allow me to do. It's given me a chance also to meet and network with other individuals who are like-minded, who do the same things as me, who have the same aspirations in life as me. All in all, it's just been a fantastic experience," Carter Goldman (12) said.