The place to be this fall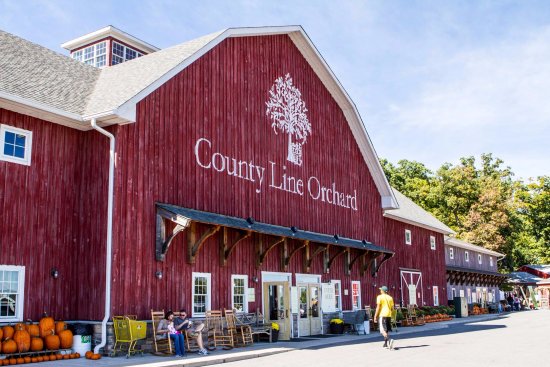 Every fall, people look forward to wearing sweaters, campfires and most importantly: going to the apple orchard. The only apple orchard around us is the County Line Orchard, and tons of people gather there every fall. At the orchard, you can do things such as a maze, pumpkin picking and apple picking. Kids start going to the apple orchard as young as kindergarten for field trips or family adventures and it becomes an event that everyone looks forward to come September. 
The County Line Orchard isn't just a place where you can pick apples, but it is a place where all sorts of fun takes place. The tractors in the apple orchard will pick you up and take you around the orchard, so you can easily pick as many apples as you want. For younger kids, the Kids Farm and the Moo-Choo ride are available to keep them occupied. If kids who are older go to the apple orchard, the corn maze is a fun way to challenge your sense of direction and memory. Lastly, if apple picking isn't your thing, you can go to the pumpkin patch and pick out pumpkins to carve instead! The apple orchard has things to do for people of all ages and all interests.
Now, not only does the County Line Orchard have fun things to do for everyone, but the food from the orchard is to die for. I may be a little biased, because of my addiction to the apple cinnamon donuts, but there is nothing else I would rather eat. Of course, there is a debate on whether the apple or pumpkin donuts are better, but both are so good and you can't get them anywhere else! On a cold day, nothing feels better than apple cider and the County Line Orchard has some of the best ever.  The combination of hot cider and the donuts make the County Line Orchard the place to go this fall and every fall.