Q&A: Madelyn Sternfeldt (10)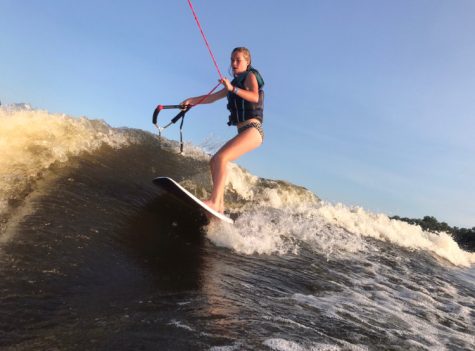 Q: Where is your lake house located and what are some unique things about the area?
   A: "My lake house is located on Lake Shafer in Monticello, Indiana. Unique aspects of the area is obviously the lake. But also the closeness of the town and no matter where you go in that area you see someone you know. The stores located in the town are mostly family business and you most likely know the owner. For example, my best friend and her family owns the jewelry store in close proximity. Indiana Beach is also at my lake. I go there so much it gets pretty old, so not many locals go there. At my lake, we are rarely inside. As soon as you get up you put on your suit and there is always something going on.
   Q: What activities do you do at your lake house?"
   A: "I wakesurf, jet ski, drive boats, wakeboard, kneeboarding and tubing. The part of the lake that I live on is an island. There are tons of kids and families from newborns to 25 year olds. About half of us are summer/weekenders and the other half are full time. Pretty much everyone has a golf cart and that is the main mode of transportation. Your other option is either a boat or jetski. During the day, about four times a week, me and my brother work at a marina working with boats and filling them up with gas. I absolutely love it. After work, I drive my boat home and go wakesurfing with the rest of the island kids. Twin Lakes school corporation allows me to train with them for cross country so I don't have to come up here during the summer." 
   Q: Why do you like to spend all summer at your lake house?
   A: "I love spending time at my lake house because it gives me a breather from the real world. It feels like a long vacation. The lake has taught me so much.  Living at the lake is something I wouldn't trade for the world. I form a strong bond with everyone I meet down there. The whole town is my family." 
   Q: How many years have you been going down to your lake house and are you glad you started so young?
   A: "I have been going down to the lake since I was about 2, so 14 years. And I have had 3 different houses down there and spent every birthday there. I am so glad I started so young and each year makes me love it more and more." 
    Q: Do you like that you grew up on the water? Do you think that it is a valuable thing in life?
   A: "Yes, I love that I grew up on the water.  You get to do things and learn things that most people will never know how to do. Working at the marina has helped this a lot. There is science behind wakesurfing and the way the wake works.  The more you are around boats, the more you learn. From growing up on the lake, I have found a love for wake boats. Me and the other kids on the lake can name every wake boat on the lake from the brand to the person that owns it. From the marina, I have learned how to deal with all types of people, and have made many friendships along the way. Boating equipment and boats are very expensive, and from growing up on the lake, you learn to respect and take care of them." 
   Q: How is Wakesurfing? What type of feelings do you get while surfing?
   A: "I wish wakesurfing was a year-round sport and that I could do it all the time. It is not like anything you have ever done before. It's complicated and frustrating when you are trying to learn, but once you get up for that first time, it is so fun and rewarding. Like other sports, it has equipment, field, and there are pro, collegiate, and minor level teams. There are also different tricks and moves." 
   Q: In the summer do you miss your friends back home? Why or Why not?
   A: "I do miss my friends back home in the summer.  I will admit that I don't stay in touch with them as much as I should. I do have them come down to my lake about 2-3 times over the summer, but I never go back up to Saint John. This past summer I went back up here for about 12 hours total for appointments. Sometimes it's hard going on social media seeing all your other friends hanging out together. The upside is that it's awesome having two groups of friends." 
   Q: Is there a difference in the type of people down at you lake compared to where you live?
   A: "Yes, there is a huge difference. At the lake, everyone knows everyone. Schools are much smaller down there. You know everyone by name and you are most likely friends with pretty much everyone. Sports are not nearly as competitive and everyone seems more open and welcoming. It is a rural community so there is a lot of hunting, fishing and farming. Most kids attend a club at their school called FFA (Future Farmers of America). Many kids I know are also in an organization called 4H. 4H is a large organization where you show off your livestock. The nearest target is 45 minutes away." 
   Q: Do you think that having a lake house has shaped you as a person?
   A: "Having a lake house has given me the chance to realize what I want in life and where I want to go. It has given me bonds that I cannot ever lose. It has taught me to value friends and family. It has shown me that not everything has to be big and beautiful to be meaningful. It has also made me less judgemental and welcoming. The lake has taught me to be more optimistic and to have a positive outlook on life." 
   Q: If you could change one thing about your lake house what would it be?
   A: "One thing I would change would be the school system because many kids I know down there are extremely smart but the schools aren't run like Lake Central. If I could, I would live full time down at my lake, but because of the school system I cannot."