Football sickness
   As the end of the football season nears, I sat down with two seniors on the team. Marc Derogene and Mateo Cedano talked to us about what it's been like for them playing football at LC and what they look for in the future.
   "During this part of the season, it becomes a big toll on your body and your head, but when you're not playing you really get that football sickness, where it's all you want to do. Right now I feel like I'm like this old jedi, I'm ready to hang it up. But I feel like when I'm done playing I'm going to be like wow, something's wrong or something's missing. I feel like us as seniors, it's our time to leave and I feel like it's getting  to the point in time where we just have to get these guys ready, because there's nothing I want to see more than to just come to one of the games and they're just winning. So regardless of us being on the program or not, I want to see the team succeed, I want to see the coaches succeed, I want to see the younger guys, sophomores, juniors and even the freshman, I want to see them all succeed and just win games. I feel like with how hard our coaches work we're gonna get it all together. It might not be this year, the season's coming to an end, but we're still fighting, but in the years to come hopefully those guys get it right and that's our job as senior, to just get them prepared get them right, get those guys experience with playing Friday nights," Derogene said. 
   The boys have had the opportunity to work with each other for the past two years. Through that time they have created a special and specific bond, now they reflect back on their memories as they play together for some of the last times. 
    I feel like Mateo's and my relationship with each other is kind of like big brother, little brother, me being the little brother because Mateo has so much responsibility He's the quarterback and everyone looks toward him regardless of the outcome of the game, people will put all types of blame on him, I don't feel like that's fair but I do it because he's my friend and I just like joking with him because I feel like me and him are like opposites. We're like complete opposite people because he's like a really serious guy that gets his stuff together. He's always eye on the prize nothing can distract him, tunnel vision, and me I don't take anything serious at all, besides football, but like I would joke around in practice, dance around joke around and Mateo's always serious like he's not trying to laugh. You can get two things out of him, you can get when he jokes around with you back or you could get the leave me alone. And when I get the leave me alone, I don't leave him alone." Derogene said.  
   Being seniors calls for the boys to make major decisions about their future very soon. Cedano told us about what he hopes for after he graduates high school.
   "For football if I do get an opportunity I will definitely try to go into that, I've been wanting to play college football since I was a little kid. I mean it's always been a dream of mine to go to the next level and keep playing. It's hard for me to think this could be my last year playing football because I've been playing since I was 4-5 years old. I haven't gone a year without football and I don't really know my life without it and I don't really want to let that go. It's tough as it comes to the end of the season, you start to realize these are the last practices that I'm going to have but I would definitely want to keep my dream going and move onto the next level if I can. I don't have any offers yet but if I get any I definitely will hop on that and take it wherever it leads me. If I don't go to school for football I want to go to school for business. I'm applying to IU, Kelly, possibly Purdue and Krannert school for management and maybe Grand Valley, but I want to go into business, possibly marketing, but I definitely want to play football if I can," Cedano said.
   Working with a team can get tough, we asked the boys what it's like being on the team. The boys build up their relationships throughout their season making the team feel more like a family.
   "Coach always talks about how we've all been through a lot, there's people from a lot of different backgrounds. There's people that will live in Lake Hills, and there's people who will have all these big huge houses and then there's people who are moving that might have a lower income, coming from Illinois or coming from a private school. I came from a private school last year and it's like people come from all walks of life and we all come together as a family. That's been our thing this year, family, all of our team gear is just family, that's who we are, we're a big family and we know that we've always got each others' back. Obviously I do wish we had come out on top of some of the games we lost, I feel like we should have. But we still have a positive vibe, we're still ready to work, coming to practice everyday, chopping wood, we're ready to work everyday with an attitude to win everyday of the week. It doesn't matter who we play if they're undefeated or they've lost every game, we're just ready to compete the best we can," Cedano said.
About the Contributor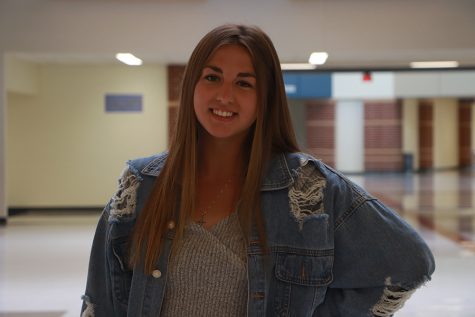 Isabella Brazzale, Print Staff
Hi, I'm bella! I'm a senior and this is my third year as a staffer in publications. Pub is one of my favorite classes, I'm so excited to be back....