Chili madness
   The 6th hour class stood around the judges' table, waiting to see how the three faculty members would react to their chili creations. On Oct. 31 and Nov. 1, the Nutrition and Wellness classes held the first annual "Chili Cook-off" lab, where three different staff members were invited to each period to judge chili made by teams of students.
   "This was a chili cook-off where students picked their own individual recipes. A set amount of ingredients were supplied, like tomatoes, beans and seasoning, and they had to bring in any additional special ingredients. Then they prepared their chili, presented to the judges and explained their chili's uniqueness. And then the judges rated on uniqueness, flavor, aroma, texture and heat," Ms. Jennifer Schmidt, Family and Consumer Science, said.
   For sixth hour's contest, Principal Sean Begley, Ms. Lupe Jauregui, World Language, and Mr. Matthew Williams, Special Education, signed up to be judges. They tasted selections from five total teams.
   "[The students' creations] were really good. I was surprised. I'm not the best cook, so I was just really shocked that they came out so good. Some were very unique. All of them did a good job, and some really brought out all the flavors. Their presentation was nice, and some went well above [and beyond] to present their food in a unique way," Ms. Jauregui said.
   Each team took turns presenting their respective dish. Ultimately, the Blue Team ended up edging out the others with a chili recipe with a special twist. 
   "We added bacon and cheese on top, with barbecue sauce [as our special ingredient]. The judges probably thought [our dish] was unique because the barbecue sauce was added. Doing [an activity like this] is fun. You learn more ways to cook things. It's a good experience," Andriea Graf (10) said.
   This lab provided a unique way for students to demonstrate skills learned in class and to interact with teachers and administrators around the school. 
   "The students were very competitive, and I think they enjoyed putting their own spins on the recipes we do. And the judges, I think it's nice for them to come see what the students' capabilities are, and it's just fun. As the first experience, this was a good one, but I know the next [years] will be even better," Ms. Schmidt said.
About the Contributor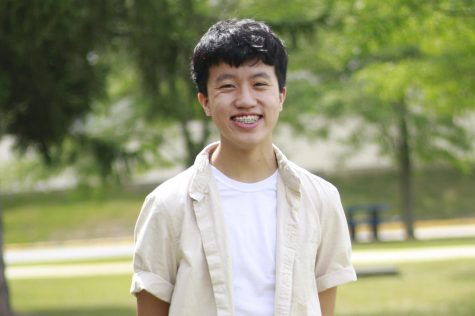 Joshua Chen, Scout Editor-in-Chief
Hi, my name is Josh! This is my fourth year in pub, and I am this year's Scout Editor-in-Chief. I'm super excited to highlight stories from diverse...