Last Christmas Review
"Last Christmas, the movie," came out Friday, Nov. 8. The plot of the movie follows a young woman who works at a year-round Christmas shop in London. The main character Kate, or Katerina, is a singer and immigrated from Yugoslavia at a young age with her family since her country was at war. A year prior to our main story line, Kate was sick and had an emergency heart transplant, because of her surgery she has had an attitude change and struggles with trying in life. She has left home because she doesn't have a very good relationship with her family. Kate bounces from place to place since her friends keep kicking her out of their houses after she makes mistakes. Her life is essentially a disaster on top of a mountain of accidents.
   The movie starts with Katerina performing in her home country as a child, then it transitions to her as an adult. After already having a bad start to her day she arrives at work and her sister comes in to tell her to talk with their mother, who Kate has been ignoring. Kate's boss, nicknamed Santa, has a love-hate relationship with her. Santa shows Kate lots of tough love through the movie.
  As the film progresses, Kate eventually meets this man named Tom. They keep running into each other. Kate starts to look around for Tom, who doesn't have a phone. While hanging out with Tom, Kate starts to adopt a healthier lifestyle with her diet and drinking. She also moves back in with her partners and works on that relationship, after skipping five doctors appointments, she finally goes back to the doctor. The most significant turnaround Kate has is her selfishness. She stops thinking only about herself and being considerate to others. One of the ways she achieves this is by putting on a benefit show for a homeless shelter.
   At the end of the movie Tom ends up disappearing and Kate searches for him. She learns that she had been imagining him the entire time and he was actually the person who died in order for her to receive a new heart. It is a strange and weird twist to the story. At first I didn't like it and thought it was a bad creative decision. However, after giving it some thought, it's not the worst ending, just a little different. Last Christmas is a heartwarming holiday movie. I would say it's worth giving it a chance. It is sprinkled with plenty of jokes to keep the audience laughing as well as doing a good job at handling some issues in today's world. 
About the Contributor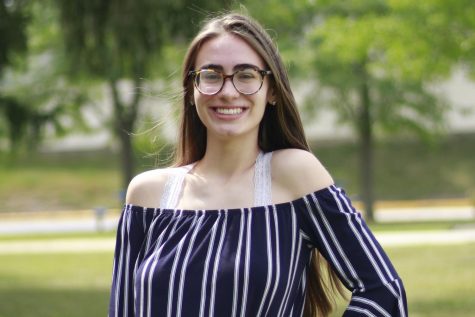 Hannah Kosinski, Director of Public Relations
Hello! My name is Hannah Kosinski. I've been in journalism since 7th grade and I am excited for my last year as a senior. I am the director of Public...