Review: Euphoria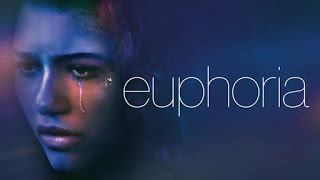 Euphoria's first episode aired on June 16, 2019 on HBO. The main character, Rue Bennet (Zendaya), has just been released from rehab after suffering from an overdose. Throughout the season Rue and six other people's stories are told. Euphoria expresses the tragic truth about addiction, insecurity, depression and teenage struggles. 
   The new girl in town, Jules Vaughn (Hunter Schafer), and Bennet meet at a party and instantly befriend one another. Bennet and Vaughn spend almost every minute they can together, all while Bennet struggles to hide her recurring drug addiction from her mother. Soon, Bennet falls for Vaughn and starts feeding off their love to end her addiction. She recovers well with the help of Vaughn before Vaughn randomly disappears for some time and Bennet falls into a deep depression. The relationship between Bennet and Vaughn adds a lot of emotions to the show and made me feel empathy towards both characters.
    At the beginning of each episode, one of the main character's childhood story is told. This helps show how each character has been shaped into who they are in present time. Throughout the season body dysmorphia and sexual aggression is shown through many characters. This helps express what a lot of teenagers deal with on the inside. I feel like everybody could connect to each character a little bit. 
   Overall this show was amazing from beginning to end and truly is a masterpiece. It greatly shows many aspects of teenage struggles. Euphoria also helps to show viewers the danger of drug addiction. I loved how it goes into great detail about how each character deals with their problems and I am excited for another season. Euphoria is rated TV-MA, because of its graphic violence and sexual activity and would be best for mature viewers.