Review: Erys/Willow Tour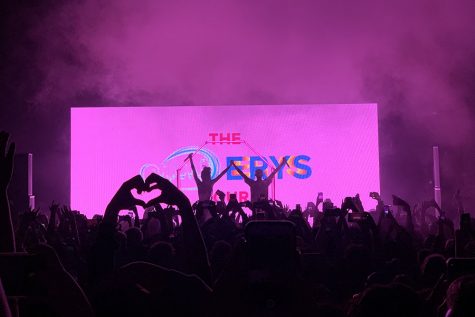 On Sat. Nov. 30, siblings Jaden and Willow Smith performed at the Riviera theater in Chicago for the Erys/Willow tour. The concert consisted of the siblings and their opening acts, Tyler Cole and Téo. The Erys album's name came from his middle name,'Syre', spelled backwards.
The show was general admission and started at 7:30 but doors opened at 6:30. When I got out of the car, there was a line (as expected). What I didn't expect was for the line to be a block and a half down from the theater. About 15-20 minutes later, we made it to the front where security checked our bags and scanned our tickets. 
The first thing my friends and I did was get their merchandise. We knew that when the show was over, there would be a long line and we wouldn't have been able to get our sizes. Both siblings had their own line of clothes which I thought was unique. I purchased a black Erys hoodie that had the album logo on the front and an ombre design on the back. My friends bought the t-shirt with the same front design an abstract design on the back. 
We walked in the arena and found a decent place to stand and wait until the show started. The first person to perform was Tyler Cole. He played his popular song, "Skeleton" and other songs. The next act was Téo. He performed his song, "Uno Dos" which featured Jaden Smith. After both singers were done, we waited a few minutes while they set up the stage for the main performance. 
Willow was the first to perform. I didn't know many songs from her album but still enjoyed her show. Not only were the visuals very pleasing but her live voice is beautiful. Towards the end of her part of the show she played her Tik Tok famous song, "Wait A Minute" that got a big applause before handing the mic off to her brother.
Jaden Smith started his show by singing one of his songs featuring Willow. His performance exceeded our expectations. He kept the audience's attention the whole time and had our energy on high. He sang some of my favorites including "Somebody Else", "Summertime In Paris" and "Icon". One of the highlights of his performance was when he shaved his head on stage.
After the concert, my friends and I left the theater singing of all the songs and reflecting on the great experience. If they ever decide to do another show in Chicago, I will be attending!