Girls Soccer Outscores Portage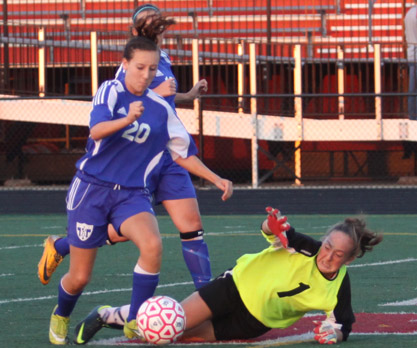 The Varsity Girls Soccer team wasted no time scoring in their match at Portage on Tuesday night. Six points were tallied up within the 80 minutes, allowing only one goal from Portage in the first half.
Within the first five minutes, LC put up a point on the board. Shannon Freedom (12) sped past the Portage defense to put the ball in the net.
"Scoring first sets the tone for the rest of the game," Freedom said.
Two goals from Tarah Hamby (10) and one from Alisha Donovan (10) were pounded in on after the other before the end of the half. Even with a leading score of 4-1, Coach Julie Moore still had some things for the team to improve on.
"I wanted them to work on covering the middle of the field and marking up on players," Moore said.
The second half didn't experience any scoring until a 3:40 shot from Lauren Doreski (12). Almost a minute later, Doreski received a cross ball from Kailiegh Kramer-Stephens
(11) and made the final score 6-1.
The girls have their next game Thursday against Munster High School at home.