Incoming Freshman Parent Night
   On Wednesday, Jan. 23, the parents of incoming freshmen visited the school to learn more about it. The night is created for parents who would like to learn more about all of the different opportunities that are available.
   "I think it might really help parents who have a first kid coming to the school or maybe a kid that they don't think might be ready for high school and it helps calm their nerves. It's really cool that they do the informational meeting, and then they have a tour of the school," Daniel McGrath  (11) said.
   Members from the Peer Mentoring Club helped give tours of the school to parents. Club members also spoke about the positive things the school offers or has done.
   "I really like being in the Peer Mentoring Club because it is very helpful for the parents and incoming freshmen. During Freshman Rush, I loved giving tours and looking to see how happy the freshmen were to start their first year here. I could tell that the parents are very excited but also scared for their 'little ones' to start, but it is definitely a huge step in the rest of their lives," Tyler Goncher (11) said.
   In addition to tours given by students, tables were set up all throughout Main Street. The tables were run by students and staff of various clubs, classes and departments. People running the tables could set up displays, put out projects from classes, learning tools from classes and information for parents to take home with them.
   "You should believe in yourself that you can try anything. [Students] won't know if they will like it if they don't give it a try," Kyle Broz (12) said.
   This event can be beneficial for parents who are new to sending their children to high school. The annual event gives parents the chance to ask any questions they have about the school, get advice from current students and staff, see all of the school's opportunities and see the school halls themselves.
   "I got a lot of questions about specific clubs that they wanted to join or specific classrooms and specific teachers that they heard about, which is cool. It was a lot of fun that helps the parents of the incoming freshmen out," McGrath said.
About the Contributor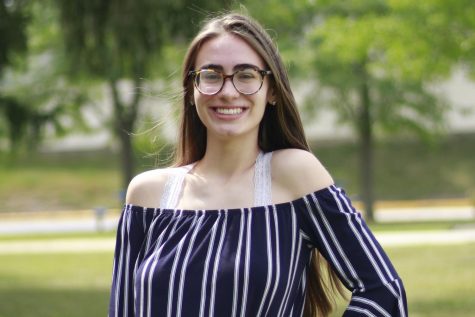 Hannah Kosinski, Director of Public Relations
Hello! My name is Hannah Kosinski. I've been in journalism since 7th grade and I am excited for my last year as a senior. I am the director of Public...