Although partly unknown at LC, the gymnastics team works all throughout the season to improve their skills and learn new routines. Along with learning new skills and routines comes the process of cleaning those skills and routines as well.
   "Varsity is where you can learn skills at the difficulty and where it's clean too. You have to be confident in yourself and in your skills and you have to do skills and it has to be consistent all the time.  If our coach wants something done, then you have to get it done," Madeline Bugg (11) said. 
   Since the girls practice so much, they spend a lot of time together. Spending that time together causes them to form meaningful friendships. 
   "I got close with a lot of the girls this year and I love hanging out with them, it's fun. We form really close friendships," Cloe Amanatidis (10) said. 
   Forming friendships and becoming friends with their teammates causes the girls to develop special pre-meet rituals. Most of these rituals help them unwind and take their minds off of competing. 
   "Usually we set up and put everything on the bus but on the bus we eat a lot and try to get our minds off of [the meet] and talk to each other and figure out what we need to do. We try to find a way where we're all comfortable and can bond together," Bugg said. 
   Although the girls like spending time with their teammates, it becomes difficult at times to balance gymnastics with things like work, school and just overall things that they enjoy.
   "I have a job, and I do school and gymnastics, and it's hard with time management and trying to keep up with my grades and homework. I also watch Netflix, even though  I don't really do it that much. But there's people on the team that always watch their Tik Toks, but it's hard for everyone to do what they like," Bugg said.
About the Contributor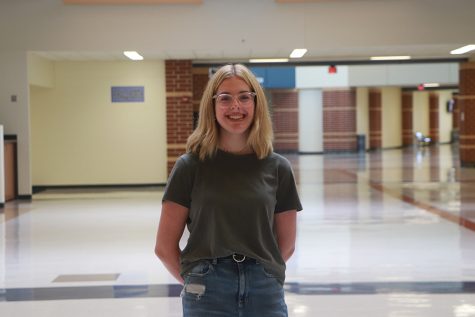 Alison Irace, Print Staff
Alison Irace: Hi, I'm Alison Irace and this is my second year as a staffer in Pub. I'm a Junior this year and I'm so excited to see what this year...