Stunting in the sunshine state
   On Feb. 6, 2020 the Varsity Cheer Team arrived at the school at 4:00 a.m. to load their luggage onto the bus and set off for Chicago International Airport. They were ready to begin their five day experience in Orlando, FL for their UCA National High School Cheerleading Championship.
   "We had to be at school way too early. I was falling asleep on the ride to the airport, but it was nice that we weren't waiting during the school day to leave like we did last year," Lily Lane (10) said.
   When the girls arrived on Thursday they had to wait a few hours for their rooms to be ready. They used the time to fit in two practices and get ready to go to dinner at Planet Hollywood. The cheerleaders who had never come to Disney for nationals before were able to experience the excitement of the trip for the first time.
   "Taking the mat at nationals was such a fun experience. I wasn't as nervous as I thought I would be, and the adrenaline I had was a good feeling. We all shared many laughs, worked together when competing and bonded over the trip," Haily Newton (10) said.
   After competing their Game Day routine on Friday morning, the girls anxiously waited in the stadium of ESPN Wide World of Sports to hear if they would move on to Semi Finals. Unfortunately, the girls did not make it, but they kept their heads high and prepared for their traditional routine they would compete the next day.
   "I was definitely nervous about nationals because it was my first experience there. I was also excited because I knew we could perform really well. It was terrible having to wait too long to take the mat, but it was our fun routine, so it made up for it," Julie Wasyliw (11) said.
   After their late night practice on Friday, the girls felt prepared for their midday performance on Saturday. Once the team found out that they didn't make it to the next round for their traditional competition routine, they raised their spirits by spending the last full day in Disney by going to all the parks. The four seniors of the team had mixed emotions about this being their last performance with their team and high school.
   "I'm really sad to think that this is my last time competing at nationals in Florida and also competitions altogether. Competitions have been a huge part of my life for the past six years, and it is sad to think that I'll never get to compete again. I'll really miss taking the mat and performing with my teammates," Alexa Aardema (12) said.
About the Contributor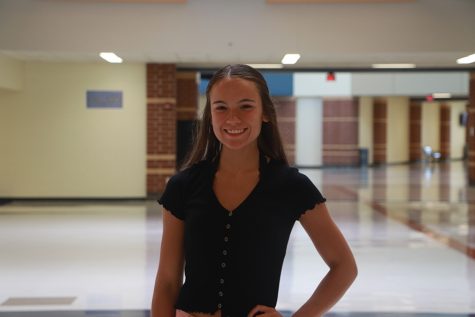 Lexi Rigg, Business Manager
Hey guys! My name is Alexandra but you can call me Lexi. I am one of the two business managers this year and am so excited for my senior year in publications....