2020 Oscars Red Carpet Looks

   Every year in February, the Academy holds the Oscars Awards Ceremony to recognize the best actors, actresses, crews, movies and short films of the year. This year's Academy Awards were held on Sunday, Feb. 9 in Los Angeles. 
   Celebrities invited to the event walk the red carpet in elaborate, high-end ensembles from different luxury brands. Every year the Oscars boast a very elegant and chic unspoken dress code. This year in particular, the red carpet included many colorful and glitzy looks.
   While there are always a few questionable looks, I thought that this year's outfits really did not hit the mark. All of the men's looks were severely underwhelming and bland while women who have always impressed me in the past showed up in ensembles that were less than satisfactory. Kaitlyn Dever, Florence Pugh, Margot Robbie and Saoirse Ronan were just some of the big names of the night that let me down with their dresses.
   Some of the worst looks of the night for me came from Gal Gadot, Spike Lee, Charlize Theron and Kelly Marie Tran. Tran and Theron's dresses just seemed to have odd, ill-fitting proportions while Gadot's Givenchy dress seemed to clash too heavily for the patterns to work together. Although Lee's tuxedo was intended to be a thoughtful tribute to the late Kobe Bryant, it came across as very haphazardly strewn-together and tacky.
   My favorite outfits of the night included looks from Billie Eilish, Brie Larson and Natalie Portman. Eilish's white oversized Chanel suit and chic updo looked extremely put-together and was a nice change of pace for the fashion-forward teenager. Larson walked the carpet in a fitted baby pink Celine dress and cape covered in Swarovski crystals. Portman's black and gold custom Dior gown included a cape and sheer panelling. This was probably my favorite look of the night because while beautiful, it also made a statement by stitching in the names of female directors that were left out of nominations this year.
   While this year's Oscars red carpet looks were generally a disappointment, there were some that stood out to me as impressive, and I can't wait to see what next year's brings.
About the Contributor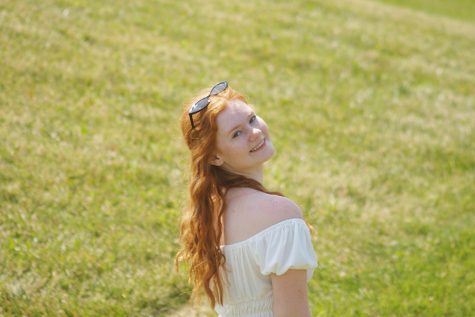 Taylor Anderson, Team Leader
Hi, I'm Taylor Anderson! I am a team leader this year and this is my third and final year in pub. I am so excited to get to know my team and help them...