Blood, sweat and chalk
   On Tuesday, Feb. 25 the girls gymnastics team competed against Hobart's gymnastics team. The girls won the meet with a score of 113.8 breaking the previous school record. Competing in the meet was Maddie Bugg (11). 
   "[Breaking the school record] made me feel proud of the team and their hard work," Bugg said. 
   Proud of this big feat the girls have had their share of ups and downs this season. With constant improvement comes setbacks. 
   "I'm dealing with some injuries right now so it's been tough on me, but for my team I think it's been very good," Bugg said. 
   While competing on bars Bugg injured both of her ankles landing. While this has become a setback in her gymnastics career, Bugg still persists and helps her team to reach their goals. 
   Someone who shares a love for gymnastics is team manager Zach Tobin (12). Being senior night, Tobin was ecstatic to be there for the team and help out in the remaining meets he has left to attend and help out with. 
   "[This meet was] definitely one of our better meets. We're really excited to see this team go into the post season especially in sectionals because three of the top five teams from state last year were in sectionals, so tonight was kind of more of a fun night but we definitely have the potential," Tobin said. 
   The gymnastics team has worked hard to improve their overall score and compete their best throughout the season. For Tobin gymnastics has been a big part of his life and something that he enjoys to be a part of.
   "I started doing this because my family has a gymnastics history, my dad was a state gymnast back in his day and my sister did gymnastics here for four years so I thought I'd hop on [the trend].  It's really been exciting to see from freshman year barely breaking 100 points and getting almost last place at DAC to being state-worthy and actually getting a medal. It's been one of the most exciting things that has happened with this team and be able to see that growth. It's been a very fun experience being able to just watch over one of the lesser known sports," Tobin  said.
About the Contributor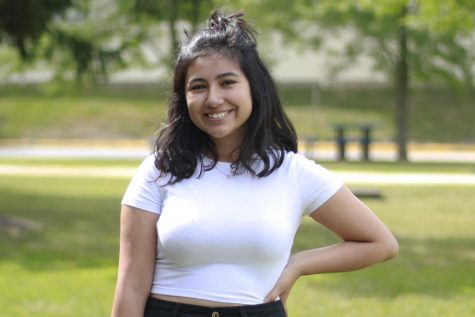 Mia Martinez, Social Media Editor
Hola! My name is Mia this is my second year as a Social Media Editor-In-Chief as well as my third and final year in Publications. I'm excited to finish...