Q&A: Kayla Longfield (11)
Q: How long have you been doing theater?
A: "I did my first show in sixth grade, so this is my sixth year being involved in theater."
Q: What inspired you to join theater?
A: "In fifth grade, my English teacher had my class do a scripted mock trial, and she cast me as the lead. This introduced me to acting, and I really liked it, so I decided to try out for Grimmer's production of Camp Twilight  the next year. I did theater at Grimmer all the way through eighth grade, but after our last show, I decided that I wasn't going to do theatre in high school. But when I heard about the call out meeting for LC's 2017-2018 theater season I thought I'd go just to check it out, and before I knew it, I fell in love with LC theater, too."
Q: What made you want to apply for student director?
A: "Well, I didn't really submit a specific application to be a student director, but I did put a check mark on my call out sheet saying I'd be willing to have the position. I do only tech for musical, so I also checked props, lights, sound, set, etc. I'm really glad that I ended up student directing, though, because I got to see some aspects of theater that I never saw before."
Q: What has your experience with student directing Matilda been like?
A: "I really, really enjoyed it.  I've never student directed before, though I did direct a freshmen show in spring 2019 with Andie Kalemba (11) and Allison Peterson (11), and we'll be directing another one this year. For Matilda, though, I got to work with a lot of different people and do a lot of different things. It was a really cool experience."
Q: What were some of the hardest parts of student directing the musical?
A: "The student directors write down all of the actors' blocking (that's pretty much where actors are supposed to be onstage at a given time or what they're supposed to be doing), and that was a little bit stressful sometimes because some scenes had a lot of actors onstage and it got hard to write down everything and still keep up with the notes being given."
Q: Was this experience similar to when you directed the freshman shows; why or why not?
A: "This was actually a lot different. Directing a freshmen show meant that I had to look at both acting and all of the tech elements and make really big decisions regarding all of those things.  For example, I designed a lot of the blocking for Virtual Family. Freshmen directors are also involved in the casting process. For Matilda, I mainly worked with the run crew to determine who would bring what set piece on or off of the stage during scene changes. I also gave the run crew their cues during tech rehearsals and performances."
Q: What is your favorite memory from the musical?
A: "I don't know if this really counts as a memory, but I made a lot of new friends and got closer to others during this show."
Q: How does student directing compare to acting?
A: "They're very different aspects of the show, but I really enjoy both. I don't really have much experience acting in musicals, since I usually do tech for them, but I always audition for fall show. Student directing involves a lot more tech elements, so I got closer to a lot of crew members in this show, and I learned more about certain tech things, too."
Q: What's your favorite scene in the musical; why?
A: "I think my favorite part was 'Acrobat Story IV / I'm Here.' It's when the Escapologist comes home to find out that his sister-in-law has been abusing his daughter and he goes off to confront the sister-in-law.  I really liked how the music and lines came together in this scene and how much emotion was conveyed by their combination."
Q: Do you plan on student directing again; why or why not?
A: "That really isn't up to me, but if I get the chance to student direct again, I would absolutely love it. I had a really great time student directing Matilda, and it's probably one of my favorite shows that I've ever done."
Q: What advice would you give to students who might want to join theater or student direct?
A: "I would encourage pretty much everyone to consider joining theater because just about any aspect of it can help you learn important life skills. No matter what your role is in the show, teamwork is a big part of bringing the show together, so that's probably one of the first things it's important to know or learn. I think being ready to work hard and making sure that you're ready to commit to a production is also important; whatever you do, even for activities and projects outside of theater, it's important that you commit to giving it your all and working your best on it. It's also good to remember that theater is a learning process. There's always more to learn, so it's okay if you don't know everything right away."
About the Contributor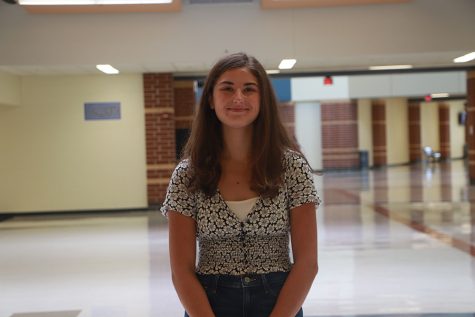 Tiffanie Richerme, Copy Editor
Hi! My name is Tiffanie and I am one of the copy editors this year. This is my third year in pub, and I'm so excited to create amazing content with the...