Q&A: Nirali Bhatt (10)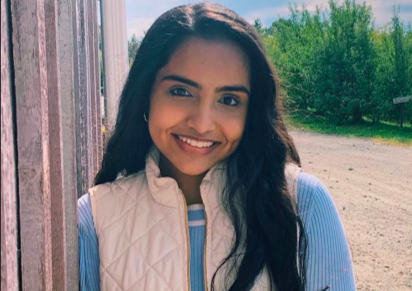 Q: What's the most interesting thing you've done over this "coronacation"?
A: "The most interesting thing I've probably done is go to the grocery store with my mom since I haven't been able to hang out with friends or go anywhere else."
Q: What's the worst part about "coronacation"?
A: "The worst part is that I don't get to see my friends and I feel like I'm missing my high school experience because we're quarantined and there's nothing to do."
Q: How is your new routine and what have you been doing?
A: "My new routine involves more sleep and exercise which is better for my health but also involves calling my friends constantly because I'm sad I don't get to see them in person, so I've been facetiming them a lot and keeping in touch with other family members and friends."
Q: Do you like e-learning more or school in real life? 
A: "I like real life learning better because online school is more busy work and in real life you are more likely to make connections with your teachers and have a more interactive environment. It's easier to ask simple questions without having to email them constantly."
Q: What activities have you been doing?
A: "Recently, I have been working out and going outside to keep myself active, I've been cooking and baking a lot more, I've been spending a lot more time with my family and I do other activities such as reading books, watching tv or making crafts to pass the time."