Class of 2020
   Twelve years ago, over eight hundred students started their first days of kindergarten and first steps towards their futures. They went through their awkward years of middle school and stressful years of high school. Eight hundred different students all with the same goal in mind. 
   For seven months, seniors enjoyed their last year of high school. They went to football games, homecoming, pep rallies and enjoyed every moment with the people around them. As a junior in high school, I empathize with every senior. I know how much work was put into every year of school. Yes, your senior year was cut short but I wanted to write something to remind every senior of the past seven months and eleven years. 
   I was able to message a bunch of seniors, some of which I knew and others I didn't. I asked every person the same question. "Describe your favorite memory from your senior year." Every answer gave me a small inside look into their lives and it was amazing to see the differences of every answer. Even with a pandemic going on, I still wanted to share just a few, of the hundreds of memories, from the class of 2020. 
   Jared Ivey (12)  and Adrian Orciuch (12) started playing for Lake Central their freshman year. Ivey played football and Orciuch played soccer, one sport played with your hands the other with your feet, but both sports require numerous amounts of training and preparation. Ivey's best memory was the second he stepped onto the field on his senior night beside his parents. 
   "I was able to walk out on the football field with my parents. Hearing my friends yell 'Go Ivey!' I felt appreciated by everybody who came to support us even though we lost that night. The memory of the friends that supported me, will always be there," Ivey said.
   Orciuch valued his entire soccer season from start to finish. For four years, he woke up at six in the morning for summer practices. Ourioch was honored to wear that jersey on the field for game nights, because it represented how much effort was put in. The friends he made, the upperclassmen he looked up to and the freshman he shared the field with is what made soccer memorable.
   "I miss everything about it, from the crowd atmosphere during the state, to waking up at six a.m. for two-a-days in the summer. Every training session, every pregame warm up, from pasta parties, to wearing the jersey, I'll always remember that," Ourioch said. 
   It was more than just a game for both boys. They enjoyed winning and hated losing just as much as every other player, but they cherished the lifelong friendships they made. 
   "Something I want everyone on the team and my friends to know is that no matter where we end up in life we will always have that connection and memories we all share and that I love them all unconditionally no matter the circumstance," Ivey said. 
   Sports have played a huge role in a lot of seniors' lives. Some of the seniors' best memories were playing on a team full of the people they love. Margaret Mulligan (12), Madeline Bailey (12) and Mackenzie Kusbel (12) all started playing volleyball their freshman year. For four years they made memories with a team they call family. Each girl explained that winning wasn't the best reward or memory that they carry with them. It's the people they played with, the bus rides they endured and the constant support from one another that made their team family. 
   "I will always remember our team bus rides. From our rants about boy problems to our postgame dance parties, bus rides laid the foundation for our irreplaceable team chemistry. We will never forget this team, Ohana," Bailey said.
   Their memories go beyond just their volleyball team. They attended football and basketball games both away and home, just to support Lake Central. Even if they were the only Lake Central students there, they still cheered like there were a hundred students around them. 
   "I will always remember the family aspect that Lake Central athletics had. They willingly supported each other and it was amazing to see, it made me proud to be an indian," Mulligan said. 
   The ancient Hawaiian term "Ohana" means family, but probably not in the way you typically use it. Ohana speaks to the concept of a larger family that is not necessarily connected by blood. A person's ohana can include anyone who is special in their life. For Kusbel, Ohana had a very big impact on her life her senior year. Organized by the volleyball team, the entire senior class wore the color purple in support of her mother for pancreatic cancer. 
   "To the people involved, thank you. Thank you for being there and supporting my family. We appreciate it and I know she does as well," Kusbel said. 
   I talked to quite a few Lake Central athletes and a lot of them explained the value of a family aspect each sport's team had. You didn't have to be an athlete to enjoy the thrill of a football game or track meet. Emily Mosher (12), captain of the color guard, made some her best memories on the football field but not playing football. 
   "My favorite memory was doing the death drop at our first football game. Only me and the coach knew about it and it was exciting. I will always remember performing with the Lake central color guard on the field," Mosher said. 
   Just like coaches, teachers have also made a huge impact on students' lives. Some of the biggest memories are formed inside the small classrooms and long hallways of Lake Central. The electives and clubs are where some seniors found themselves spending the most time. Mya Bell (12) planned and conducted the 2019 Veterans Day assembly alongside the history club members. Despite feeling stressed, she pushed through, leaning on her friends and teachers for support. Bell knew it was all worth it as soon as she saw the heartwarming smiles of each and every veteran who attended. 
   "I put a lot of hard work and dedication into something that meant a lot to me, those who serve our country. I got to work with some very close friends of mine and favorite teachers. It's my favorite because I love the happiness it brings people," Bell said.
   Luke Persun (12) is one of many students who was in Mr. Volk's 3D art class, but he is the only one to walk away with an award for his architecture. To Persun it wasn't simply because he won a contest,  that award is what led him to figure out what he wanted to do with the rest of his life. His choice to pursue architecture in college started with a high school class.
   "For 3D Art, I enjoyed the constant bickering between me and my friends in the class, while also feeling I was actually learning something with Mr. Volk teaching. For the architecture award, it was a very exciting moment for me because it's what I actually plan to do for the rest of my life, and being recognized as designing something good enough to receive an award of honor and a money incentive only increases the excitement I have furthering my education," Persun said. 
   Sometimes it's even the small things you remember most and for Sawyer Grimler (12) that was the case. His most memorable moment was winning against Mr. Graves's March Madness basketball brackets. While most students watched every game and analyzed the teams, Grimler guessed on his entire bracket and won himself a hundred dollars. 
   "I had guessed my entire bracket and ended up beating Mr. Graves's stimulation which has a higher success rate. What really is my favorite is taking that crisp hundred dollar bill from Mr. Graves," Grimler said. 
   Each of the students' memories are vastly different from one another, but at the same time they still have one thing in common.  Some of the best memories were made with the people they had around them. Regardless of the gender or age, the class of 2020 learned the value of friendship through the people they met at Lake Central. High school is just a mere four years, but all the memories made will last a long time. 
   The last thing I want to say is not for the seniors, it's from the seniors. At the end of each interview I also asked every senior what advice they'd give to the underclassmen. And they did not hold back.
   "Cherish every moment," Victoria Pieters (12) said.
   "Be kind and impactful," Mya Bell (12) said.
   "Never change who you are for anyone else," Libby Haberling (12) said.
    "Don't dwell on mistakes," Adrian Orciuch (12) said.
   "Never change your beliefs or mindset for others' approval,"  Isaac Heard (12) said.
   "You have to put your best effort forward to beat the man in front of you," Desmonn Smith Jr. (12) said.
   And lastly, " Get your homework done,"  Emily Mosher (12) said.
About the Contributor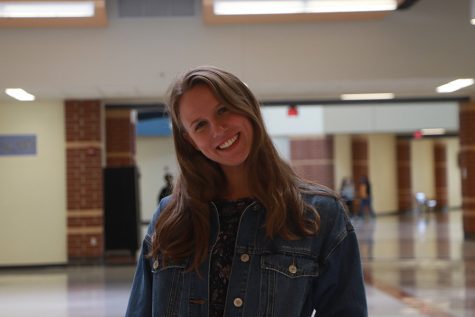 Emily Prince, Design Editor
Hey! I'm Emily and this is my first year of publications, as a junior. I am excited to be apart of the team that creates and publishes the stories that...