Finding the Way Back: Review of Demi Lovato's new single "Still Have Me"
Review of "Still Have Me" by Demi Lovato
Demi Lovato released her single "Still Have Me" on Wednesday, Sept. 30, without any talk of it prior. It is a slow ballad about Lovato's feelings post-breakup. She describes the pain she went through, but the fact that she still had herself gave her hope.  
The song is very similar to Lovato's song "Sober," which was released on June 21, 2018. Both have slow beginnings with a soft piano background. The inspiration behind each song is reflected in the lyrics and style. "Still Have Me" is a detailed glimpse into Lovato's love life, and "Sober" describes Lovato's struggle with sobriety. Both are very personal topics that required Lovato to be very open about her personal life. Her vulnerability has the potential to reach so many people, and her relatable lyrics can help those who are going through similar things. 
Lovato opens with the lyrics, "I'm a mess and I'm still broken, but I'm finding my way back." From the moment the song starts, Lovato is honest about how she feels and her struggles. This line makes Lovato's feelings clear and lets people know they are not alone in their struggle. She starts completely hopeless, but as the song progresses, she becomes more optimistic and hopeful. The chorus is the uplifting part of the song because it is when she realizes she only needs herself. It says, "I don't have much, but at least I still have me." Lovato overcomes her struggle and starts to realize her own strength. This realization may help many others feeling the same way as Lovato.  If they see that she can overcome her self-doubt and struggle, they may be inspired to do the same.  
Overall, Demi Lovato's new single is a very touching song. It expresses the lows and highs of life, and it can be an inspiration to many. Without her vulnerability and openness, the song would not have the same moving characteristics that it does. It is a very good display of Lovato's talent, and I hope she continues to release realistic and touching music. 
About the Contributor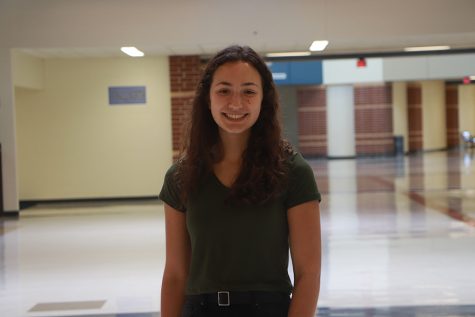 Bailey Egan, Print Staff
Hi I'm Bailey Egan, and this is my second year in pub!   I am excited to be back, and I look forward to working with and getting to know all the new...