Machine Gun Kelly rocks it onto hit charts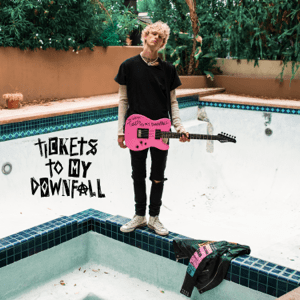 On Sept. 25, 2020, trending alternative star Machine Gun Kelly (Colson Baker) released his new album Tickets to My Downfall. On this 15 track album, Colson's features two of his hit singles "Tickets to My Downfall" and "bloody valentine."  MGK collaborated with many other popular artists, such as Halsey, Trippie Redd, iann dior and Blackbear.
   Originally starting as a hip-hop rapper, Machine Gun Kelly expressed his versatility by switching to a more alternative punk-pop.  Some people have criticized him for this drastic change.  "I just want to go against what everyone thinks. I make a pop-punk record, and everyone's like, 'You switched genres.' To me, I just added on to the multiple things I've already done anyway, but, sure, what a narrow-minded way to look at things," said Baker from a USA Today interview..
   The Cleveland native has scored his first Billboard Number One Album with Tickets to My Downfall.  The album hit number 8 on the Billboard charts. Songs from the hit album, such as "my ex's best friend" have been used greatly on the social media video app, TikTok.
   Personally, I enjoyed listening to the new hits.  I've enjoyed listening to Machine Gun Kelly before he switched genres and watching some of the movies he's been in.  I've always thought he was a successful artist.  The songs are greatly crafted, but some sound the same.  My favorites are "Forget Me Too" and "All I Know."  I certainly think that MGK did a phenomenal job with the lyrical aspect and the upbeat mood in contrast to the more heartbreak-ish songs.  I would really recommend listening to Tickets to My Downfall.