Ariana Grande switches "positions" with new music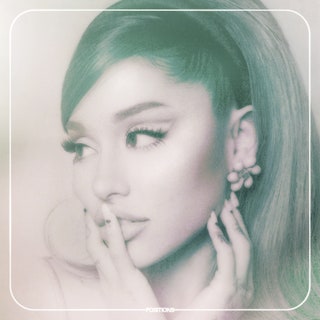 On Oct. 30, popstar sensation Ariana Grande released her sixth album, Positions. Grande surprised her fans with the news over Twitter with a tweet saying "I can't wait to give you my album this month," causing fans to freak out with excitement as they waited for her to drop the album. Before dropping the album, Grande released the lead single off of the album with the same title "Positions." This song gave her fans a glimpse of what the sound of the album will be like.
The first song on the album is titled "Shut Up." This song has a very soothing melody as the music is accompanied with lots of strings. Grande preaches in this song that if you have a negative attitude towards her and the way she is living her life, you need to shut up. If you can't vibe with her new sound on this album, she wants you to worry about something else. Grande stated that this was a perfect opening to the album because it sets the tone for the rest of the songs.
Grande included many features on this album, including Doja Cat, The Weeknd and Ty Dolla $ign. "Motive," the track Grande shares with Doja, has a very uplifting and almost disco-like beat. The Weeknd and Ty Dolla $ign's songs show Grande's more emotional side as she slows down the songs to describe her feelings toward her new lover. After what Grande has been through, it is hard for her to know if her new lover is real or faking it. These songs create the perfect picture that Grande is unsure of how to feel due to her past emotions and experiences.
Grande experimented with a lot of new sounds in each of her songs on this album. Specifically, her song "Love Language" is very unique and has a very up-beat and interesting sound. Grande lets her lover know in this song that he is exactly what she is looking for in a partner. 
The closing song on the album is titled "POV." This song is the definition of a true love song. The lyrics do not hold back as Grande describes what it is like to love her partner. Grande stated that the lyrics are about how when you dislike something about yourself, but your partner loves it, what an amazing feeling it is for that to happen. The lyrics read "I wanna love me, the way that you love me, for all of my pretty and all of my ugly too I'd love to see me from your point of view." These lyrics seem very deep and meaningful to Grande as she is currently in a very healthy relationship for the first time in a while.
Overall, the album Positions is very uplifting compared to the singer's previous albums such as Thank u, Next. The vibe this album gives off is immaculate, and it is obvious to see the growth she has made over the past two years. There is a storyline that stems from her very first album to this album, and it shows what she has accomplished over the years. This album has amazing songs with an amazing voice singing them.