Ballin' to The Win
The girls JV basketball team beat Hanover Central on Friday Nov. 13 with a final score of 61-14. The girls were prepared to put their all into this game and do their best. They were not leaving the court without a fight. 
   "I wanted to leave it all on the floor. Before COVID we could always look forward to another game. But with things uncertain, each game could be our last," Kylie Blevins (10) said.
   There was no guarantee that the girls would have another game. Due to this possibility, the girls prepare themselves for each game. 
   "My mindset going into my game Friday honestly was to not be scared and to do your best because you can't be in control of everything. I usually listen to music before my games to calm my nerves, and it works most of the time," Aneisah Gail (10) said.  
   Thie girls each have their own ritual to help them calm down before each game. They even have their own goals that they strive to achieve. 
   "I would have liked to work harder with more rebounds. My main job as a center is to attack the boards, give my team second chance shots at points on offense and prevent the other team from getting extra shots on defense," Blevins said.  
   Blevins is a center whose job is to prevent the other team from scoring and to make sure the ball makes it to her teammates. The girls have to think quickly in order to get the ball around the court. 
   "Usually my mental process goes through 'okay, is this the right pass to make' or 'is this a good time to shoot the ball," Gail said.  
   All in all, the girls won the game and took home the win. 
   "Every game is a learning experience. I hope to learn a little more about the game each time.  Hopefully our team chemistry continues to grow," Blevins said.
About the Contributor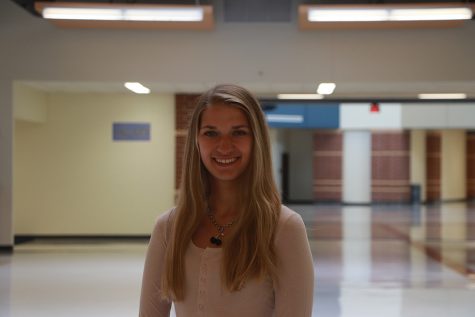 Rachel Narjes, Print Staff
Hi, I'm Rachel and I am a junior.  This year will be my first year in Pub and I'm so excited to get started.  I'm really looking forward to working...