A Unique Holiday Concert
  The choir department put on a holiday concert on Thursday, Dec. 3. The Concert Choir, Varsity Choir, Counterpoints and Da Capo all sang. The audience and choir were socially distanced, but the program was still festive. 
   "It went well. I think that if we were in person we could have done a little bit better but overall I think we did good [even though nobody was] able to hear any of us," Julian Velazquez (10) said.
   Throughout the year the choir had had to be spaced out, which made it harder to hear each other. This made choir this year a unique challenge. 
   "I think that since we're distanced I have learned to sing without relying on other people as much as I did in the past. I think that was really helpful," Ava Wilson (10) said.
  The choir also had to overcome how close the two choir concerts were to each other. Because of the uncertainty of COVID-19, the choir program scheduled the concerts closely together. 
   "This one was a little more rough because we didn't even expect to have a fall concert so that one was pushed back and this one was really early so we didn't have a lot of time to practice our songs," Lily Taylor (12) said.  
   Even with these obstacles the concert program was a success. THe small audience enjoyed the songs ranging from classic Christmas carols and 50s doo wops to carols with African twists. 
   "I'm happy that we got to have this concert and be together. My favorite part of this year has just been being here and I feel like the people who performed tonight were really strong," Taylor said.
About the Contributor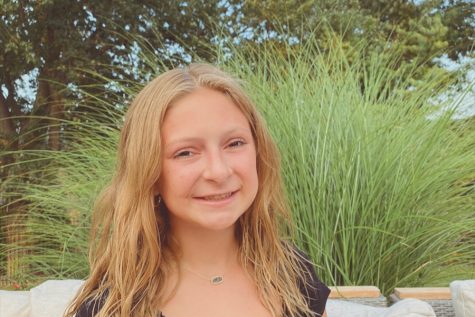 Olivia Mapes, Print Staff
Hi, I'm Sasha Gerike! This is my first year in pub and I can't wait to get this year started!