Blue Pink and White Stripes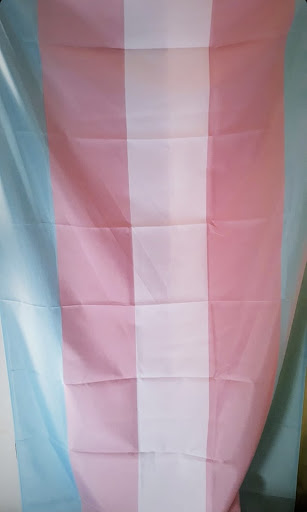 33-year-old Canadian actor and producer Elliot Page, best known for the award-winning movie Juno and for playing Vanya in the Netflix original The Umbrella Academy, came out as transgender and nonbinary, using the pronouns he/they. Nonbinary is a term used for people who identify as neither male, nor female.
   On Dec. 1, 2020, Elliot posted a picture of their letter on social media saying, "Hi friends, I want to share with you that I am trans, my pronouns are he/they and my name is Elliot. I feel lucky to be writing this. To be here. To have arrived at this place in my life."
   Nothing but support has been shown to them. Many other celebrities have commented on their posts. Miley Cyrus, Natalie Portman, Patrick Stewart and many more have publicly shown their support. Along with celebrities, companies like MTV, Netflix, Rotten Tomatoes, Sony, Oreos and the Human Rights Campaign have all shown their love. Their post is flooded with hearts, love, support, and messages from others who have gone through exactly what they are sharing. 
   With such a huge announcement he acknowledges that he does have fear. He tells us how he fears for himself and others in the trans community. He continues to tell us how 40 trans people, at least, have been reported to be murdered in 2020. He says "enough is enough" after telling us the community experiences a 40% of adults attempted suicides. 
   Although his most recent role in The Umbrella Academy is a female, he says he will continue to play the role of Vanya with no plan for change to the role itself. Netflix says they are changing his name in all the media he appears in from his dead name to his preferred name.
   Elliot's wife, Emma Portner, has been openly supportive of her spouse. She posted the letter announcing his identity with a caption saying, "I am so proud of @elliotpage. Trans, queer, and non-binary people are a gift to this world. I also ask for patience & privacy but that you join me in the fervent support of trans life every single day. Elliot's existence is a gift in and of itself. Shine on sweet E. Love you so much."
   Elliot ends their letter saying: 
   "I love that I am trans. And I love that I am queer. And the more I hold myself close and fully embrace who I am, the more I dream, the more my heart grows and the more I thrive. To all trans people who deal with harassment, self-loathing, abuse and the threat of violence everyday: I see you, I love you and I will do everything I can to change this world for the better. Thank you for reading this. All my love, Elliot."