A Haunting Review
The Netflix original series The Haunting of Bly Manor was released on Oct. 9, 2020 and recently took the media by storm. This chilling series has nine episodes in total, all episodes ranging from 45 minutes to an hour. The genre of this show is a thriller, though it is not a horror show. 
Creator Mike Flanagan based this TV series on the works of Henry James, a British novelist who wrote many short stories and books throughout his career. His stories often centered around other writers and artists at the time, though he had a handful of works centered around the supernatural. 
This show tells the story of a young woman, Danielle "Dani" Clayton, played by Victoria Pedretti, who is hired to look after a man's niece and nephew. After moving to the manor to escape her past, Dani quickly becomes subject to the spirits' torment in the manorhey people having died in the house condemned to stay there. While Dani is the "main" character in this story, there are many other characters who play a big part in the story. It also centers heavily around the two kids Dani was sent to nanny for: a little girl named Flora, played by Amelie Bea Smith, and her brother Miles, played by Benjamin Evan Ainsworth. These two children are a very big part of the story and Dani's development throughout the story. 
Not only does The Haunting of Bly Manor have an amazing story, but the show also does a great job with LGTBQ+ representation. The main characters, Dani and Jamie, both like women in some way, and many people assume that Dani is bisexual or pansexual and that Jamie is a lesbian, though there is no evidence that proves either of those claims; all we know about their sexualities is that they both like women. It also portrays a realistic relationship for the time of the story. 
This show also does an amazing job portraying family relationships, from the siblings fighting to Dani taking on almost a motherly role to the children. This show really makes you feel for the family. While the show isn't entirely a family show, it has its moments, and those moments are worth it alone. 
Overall, I'd give this show a solid 8/10. The flaws are more plot holes then anything else. The plot holes that were created sets up for a season two, which I know I will be watching if it comes out. If you were to ask me if I would watch this show again, the answer would 100% be a yes. 
About the Contributor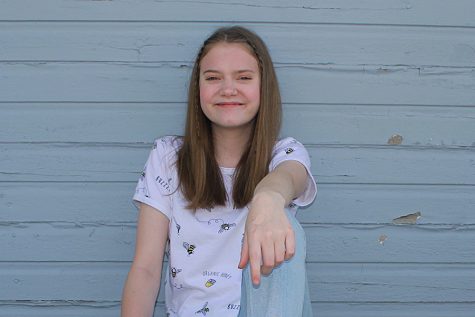 Della Steif, Print Staff
Hi! My name is Della. This is my first year on pub and I'm on the print staff. I'm so excited to be on Publications this year, make some new friends,...