Game of Queens: Review on The Queen's Gambit
   Making chess cinematic seems like an impossible feat, but writer/director Scott Frank managed to do so with Netflix's biggest limited series, The Queen's Gambit. The seven-episode limited series is set in the 1960s and follows Elizabeth "Beth" Harmon (played by Anya Taylor-Joy), who was orphaned at age nine. 
   While at the orphanage, The Methuen Home, Harmon befriends fellow orphan, Jolene, as well as the custodian, Mr. William Shaibel, who teaches her to play chess. Harmon quickly picks up the fundamentals of the game and learns she can visualize the chess set on the ceiling after taking orphanage-regulated tranquilizer pills. She continues to play the game both on a board and in her head until she is adopted around age fifteen. 
   After a short while, Harmon is reintroduced into the world of chess after entering and winning her first ever tournament, and she quickly gains recognition and the status of a prodigy. Harmon continues entering tournaments across the country, with her adoptive mother at her side, hoping to one day become a grandmaster. However, she must learn to cope with addiction, loss and isolation along the way.
   The Queen's Gambit blew me away. I could not have asked for more three-dimensional characters, plot or setting. From Harmon's relationships with Jolene and Mr. Shaibel to her adoptive mother, Alma, and fellow chess player, Benny Watts, the characterization was exceptional. Although I had not seen any of Taylor-Joy's films before, her incredible portrayal of Harmon made me want to binge all of her other movies.
   The episodes touch on many heavy subjects, from drug/alcohol addiction to sexism and racism in the '60s, and although the coverage of these topics could have easily taken a stereotypical turn, the series showcased them in a very refreshing and original manner. It brought light to these issues while weaving them into a beautiful narrative.
   In addition to the superb acting and writing, the music, sets and costumes of the show were just as phenomenal. Composer Carlos Rafael Rivera scored the film beautifully, following Harmon's moods, spirals and comebacks to create unique melodies. Costume designer Gabriele Binder also alluded to the chess board and pieces through Harmon's outfits, choosing to dress her in a simple outfit resembling a chess pawn as a young orphan and in an all-white outfit resembling a chess queen after Harmon earns the title of grandmaster.
   Taylor-Joy shared that "a record-setting 62 million households" watched The Queen's Gambit in the first 28 days. Searches for "how to play chess" have also hit a nine-year peak, and the novel of the same name hit the New York Times Bestseller List 37 years after it was published.
   The first time I watched the series, I could not get the characters or story off my mind. I honestly still can't. Taylor-Joy did a phenomenal job, and so did the rest of the cast and crew. I recommend this series to everyone I talk to, as it is easily my favorite series to date.
About the Contributor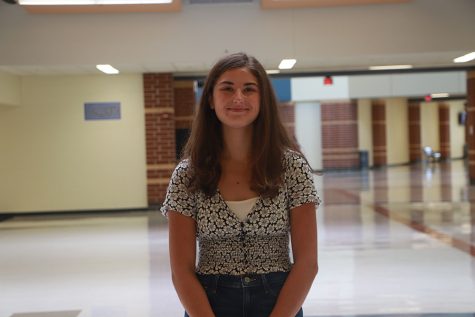 Tiffanie Richerme, Copy Editor
Hi! My name is Tiffanie and I am one of the copy editors this year. This is my third year in pub, and I'm so excited to create amazing content with the...