Swift surprise album

  On Dec. 11, singer and songwriter Taylor Swift shocked her fans with the release of her ninth album Evermore. Swift posted a photograph of the cover of the album, captioning the picture with a description of the upcoming album. She labeled Evermore as Folklore's sister album. Folklore is the album that Swift released over the summer. Swift's ninth album includes 15 songs with features from HAIM, The National and Bon Iver.
   The opening song to the album is titled "Willow". This song has a deeper meaning than what is seen on the surface. Swift tries to convince her boyfriend to take her hand in marriage. She wants to build brand new plans with him and look forward to her future. Swift always finds a way to add special lyrics and moments into her songs, and "Willow" happens to be one of them.
"Gold Rush" is another popular song off of the new album. In this song, Swift is using a metaphor to compare her relationship to gold. The lyrics in this song prove that Swift is truly in love, and her significant other feels the same way. This song has a very sentimental feeling as Swift gushes about her boyfriend throughout the entire song.
On this album, Swift includes three different features in her songs. "No Body, No Crime" features HAIM. This song is about a wife who is suspicious of her husband cheating on her. She grows more suspicious as more clues are found to prove her point. But, as she confronts the husband, he instantly kills her. No one can find her anywhere, and there is no proof of what the husband did. The next featured song is titled "Coney Island". This song is about being so invested in a relationship that you do not even recognize who you are anymore. Swift makes many realizations about herself and her relationship throughout this song. The third song with a feature is titled "Evermore" and it features Bon Iver. This song is also the title of the album, causing it to have a very special place in Swift's heart.
Overall, Evermore is an album that deals with love, loss, and hope. Each song tells a beautifully detailed story. Swift wanted to make sure that every song on the album had a special meaning, and she succeeded. This album has great songs with amazing melodies.
About the Contributor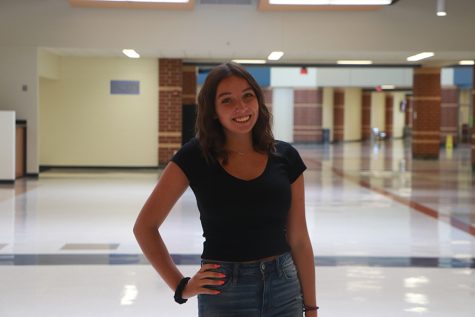 Mackenzie Guthrie, Web Content Editor
 Hi I'm Mackenzie and this year I am a Web Content Editor! This is my third year in pub but first year as an editor. I am so excited to see what this...