Serving up a victory season
On April 15, the girls' tennis team crushed Hanover in all their matches. After having their previous season cancelled, the girls reigned victors with some new additions.
   "Today is going very well. The whole year is going well. It's nice to be playing again after being off an entire year. This is wonderful. It's nice to have tennis. We were a spring sport [and] all spring sports last year were cancelled because of COVID and the pandemic," Coach Bryan Szalonek said.
   Team bonding has been an active part of the team's routine. Creating the bonds and conditioning for their matches is what these girls know.
   "I really like tennis because it's a good form of exercise for me mentally and physically," Chelsea Lam (10) said.
   Apart from the sport itself, the team is a strong machine. Not only do the team bond as teammates but as friends. This has even inspired Ella Dobrovits (10) to join the team.
   "I just started playing this year because I love to play tennis for fun and I thought joining the team would be a good opportunity to improve. I also have [Szalonek] as a teacher and thought it would be fun to play with him as my coach," Dobrovits said.
   The team has had a few new additions this year. Being a spring sport, the pandemic stopped them from the beginning last year. For some, this has pushed back their previous playing schedule.
   "I would have joined last year, but [having last year's season cancelled did affect me since I could have started playing sooner. I am looking forward to [playing tennis] for the next two years, and hopefully I can improve," Lam said
    Strengthening their front has been the main priority for these girls. With them gaining more and more wins, these girls refuse to let a cancelled season set them back.
   "The season has been going well because varsity won 5-0 both matches we've had but the season just started so you can't know for sure yet," Dobrovits said.
   Like many other spring sports, the girls' tennis team is grateful to be where they are now. To be able to play together again comes as a relief to them. Show your support to these powerful girls at their next match.
   "It's hard to keep interest for that year. They all had to play on their own because there was no contact for many, many months. All seasons are nice as a coach, but this one is so far especially nice because we're playing," Szalonek said.
About the Contributor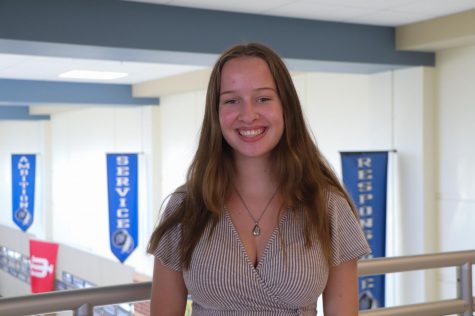 Brooke Follrad, Web Content Editor
Hi, I'm Brooke Follrad! I am a Web Content Editor this year. I'm looking forward to posting fun content on all of our platforms. I hope you enjoy the...